🇬🇷 Greece 2020: Milos & Athens
This year we spent ~3 weeks in Athens and one week on Milos. Below you'll find recommendations and impressions. 🙌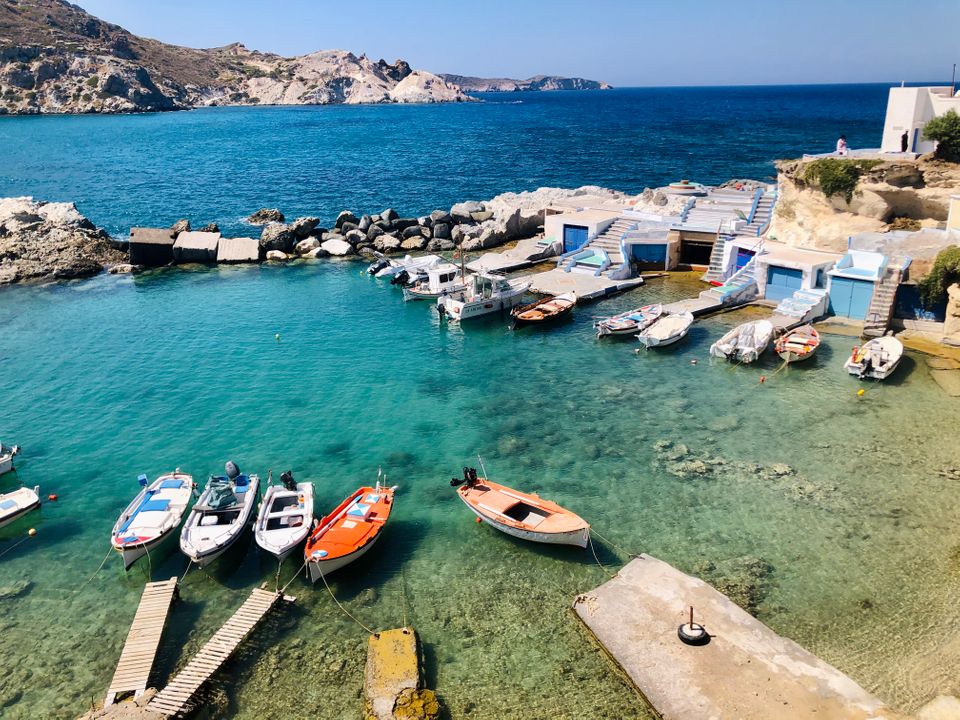 We came back to Greece for the second year in a row. And we are loving it.
This is why:
Food: Fresh seafood; grilled meat specialties; variety of dairy products and lots of vegetables
Culture: One of the oldest cultures in Europe with lots of classical artefacts but also a modern-day culture which is centered around (philosophical) discourse
People: Very friendly locals
Country: Cities; mountains; islands; so much to explore
This year we spent ~3 weeks in Athens and one week on Milos. Below you'll find recommendations and impressions. 🙌
---
Travel & Logistics
Air travel: Coming to Greece we took a direct flight to Athens. During covid19 you should check https://travel.gov.gr/#/ to make sure that you meet all criteria before entering the country.
Ferries & boats: Since Greece has 200+ inhabited islands the maritime sector is well developed. To travel to Milos we took a ferry from the port in Piraeus (= largest passenger port in Europe w/ ~20M passengers served annually). Once on an island you can usually rent small boats with or without skippers to explore the coastlines (highly recommended).
Rental cars: We haven't taken any busses, so can't really say anything about it. For rental cars, go for the smallest car possible, since streets are narrow.
---
🏝️ Milos: The Island Experience
3.5 hours by boat is enough to arrive in a totally different environment.
We stayed at Sarakiniko Rooms (link). Thumbs up, would do again. // Also, get a small rental car and enjoy life.
Vista Points: Where to Watch the 🌞 Set/Rise
Milos has an array of beautiful vista points:
Plaka: Hike up to Plaka Castle (= Venitian Castle of Milos)
Klima: Beautiful fisherman's village west of Plaka
Sarakiniko Beach: Get ready for a moon-like environment // More beautiful at sunset since the light hits from the West and illuminates the volcanic rock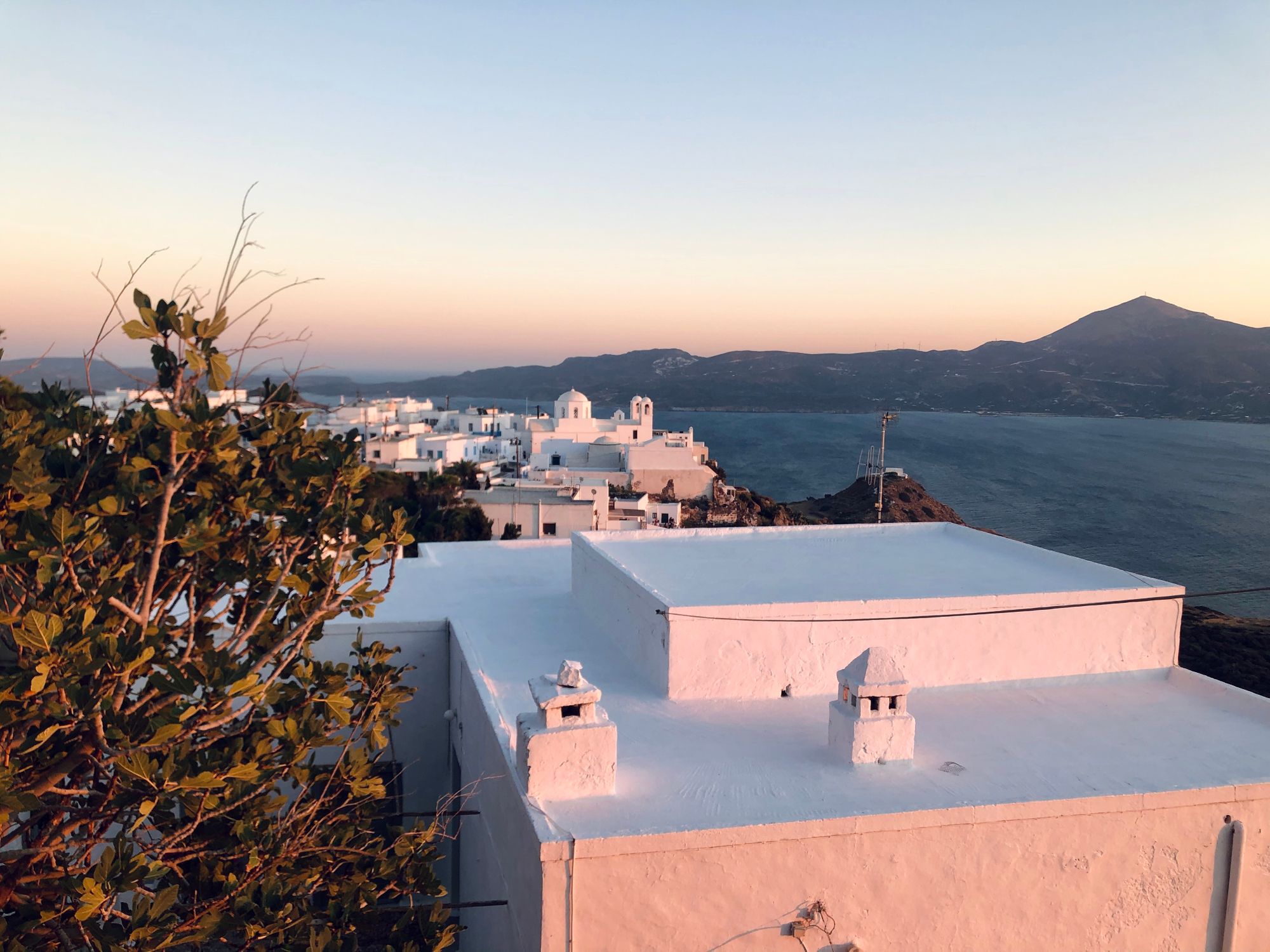 Another way of getting a nice view for sunset is to make a reservation at one of the many coastal restaurants:
Astakas Cafe (Klima): Great fish restaurant
Ergina (Trypiti): Taverna-style
Medusa (Mendrakia): Fish-restaurant known for their fresh seafood (octopus)
O! Hamos! Tavern (Adamantas): Solid & tasty taverna close to a 'local beach'
Psaravolada (Paliochori): Restaurant on a cliff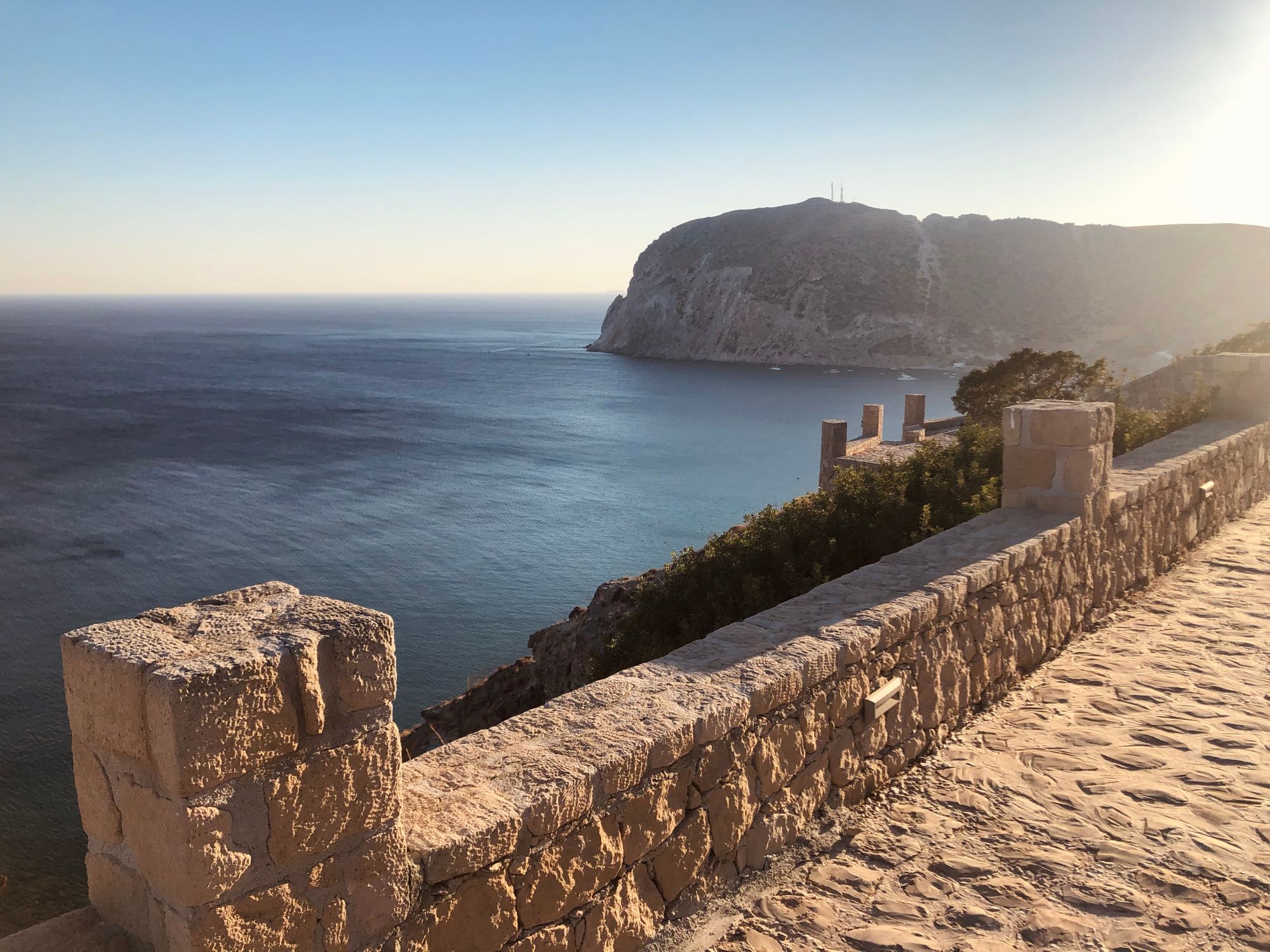 🐟 Beaches and Water: The Deep Blue
Since you're surrounded by water, you might as well dip into it. Here a selection of our favorite beaches:
Sarakiniko Beach: Volcanic rock, no shade. Great for photos but it's not a beach with chairs/etc. // Parking lot in front
Papikinou Beach: Local beach right in front of O! Hamos! Tavern // Parking on the street
Agia Kiriaki Beach: Small local beach on the South side of the island. // Enough parking
Tsigrado Beach: "Hidden" beach since it's difficult to access. You drive up to a small parking lot and then have to use a fixed rope and a broken ladder to climb down a crevasse. It's totally doable but not recommended if you have an injured leg or hand. We saw one dude carry a large dog up and down. // If you go, come early ~8am to avoid the masses + get some time in the shade, then you can move on to Firiplaka beach (see below).
Firiplaka Beach: More like a beach club. Gets very busy at around 10-11am. Parking on the road leading to the beach. // Ideally combin with a trip to Tsigrado, then come to Firiplaka at around 930/10am-ish.
Firipotamos Beach: Local fisherman's village on the North side of the island. Limited parking so ideally come early. Beautiful and clear water. You can combine with an afternoon trip to Medusa restaurant in Mendrakia.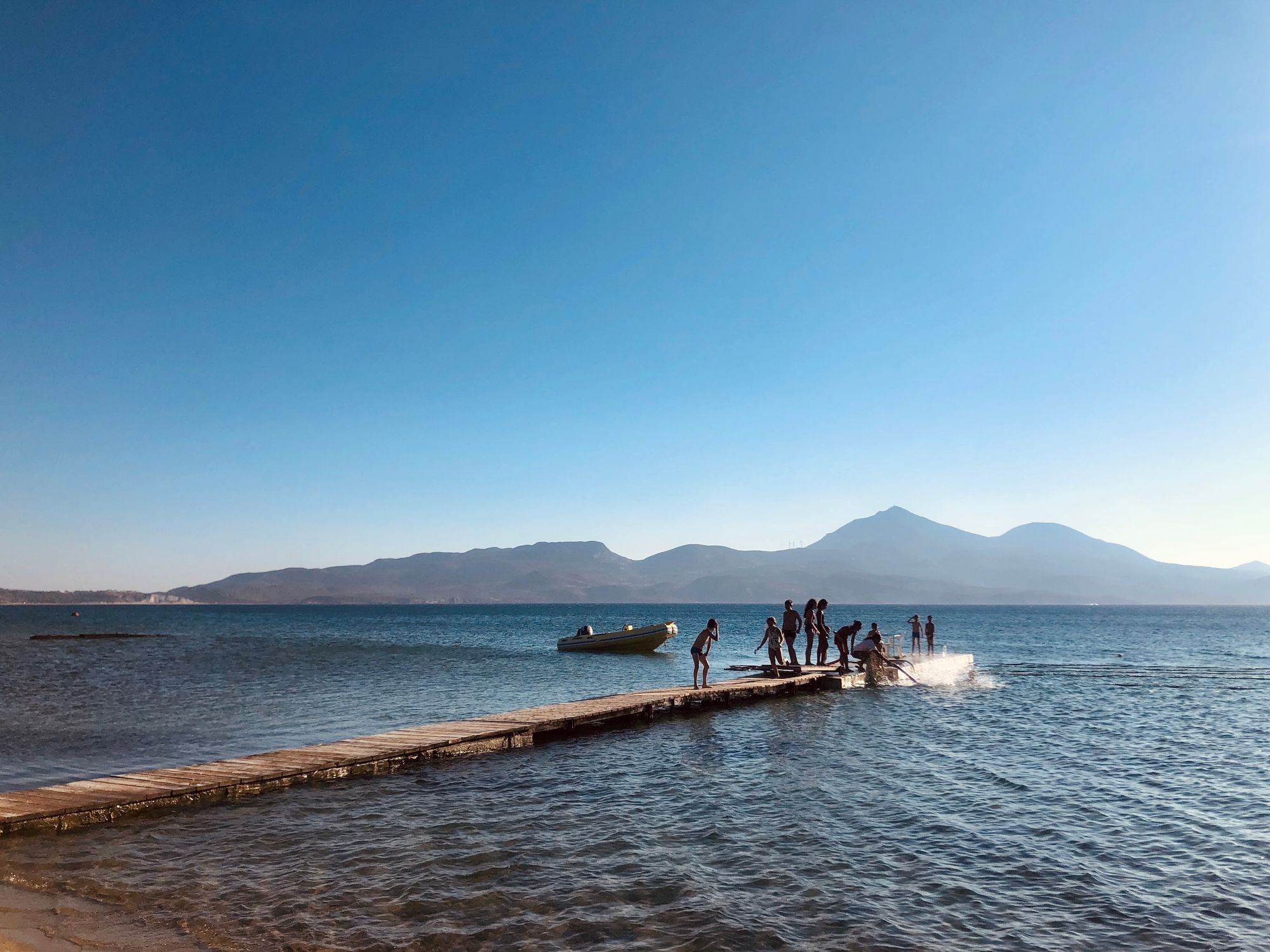 Wildcard #1: Renting a Boat
Sara convinced me to rent a boat and it was the best decision during this trip.
You don't need a boat license to rent a speed-limited boat (max. <20 knots). They give you a short instruction and driving the boat is straight forward. Wheel. Forward. Backward. Anchor. Done.
The cool thing is that it unlocks some places that you can't really access by car, since the Western part of the island is off-limits for rental cars.
We rented the boat in Agia Kiriaki (830am - 2pm). EUR 120 for half-day. Full-day be too much I think.
This is the order in which we explored the various beaches:
Kleftiko: Cliffside waters with caves. Took us 1 hour to get there from Agia Kiriaki, so better to bee-line straight there. at 10am the first larger boat tours started arriving.
Paralia Gerontas: More caves, a bunch of luxury yachts were anchored there.
???: Some random spots in between Gerontas and Kalaoms with abandoned quarry facilities. Not for swimming but for spooky vibes.
Kalamos Beach: Untouched beach, only accessible by boat. Great finish to the half-day trip.
Wildcard #2: Kimolos
A total wildcard if you're already on Milos is to do a trip to the nearby island of Kimolos (40 minutes by ferry // only operates when it's not too windy. Best you call in or to look at your weather app --> if it says 'windy' ... then chances are you won't get to or from Kimolos).
Kimolos is definitely the less-touristy island by some orders of magnitude. We did a half-day trip and pretty much every shop/cafe/etc was closed at 9am when we arrived. Might be due to reduced activity as a result of covid but not entirely sure.
We used the day to walk around the island and relax at 3 local beaches:
Rema Beach: Fisherman-style beach. Rock instead of sand.
Klima Beach: Barren beach.
Karras Beach: Most beautiful inner-city beach we've seen on this trip.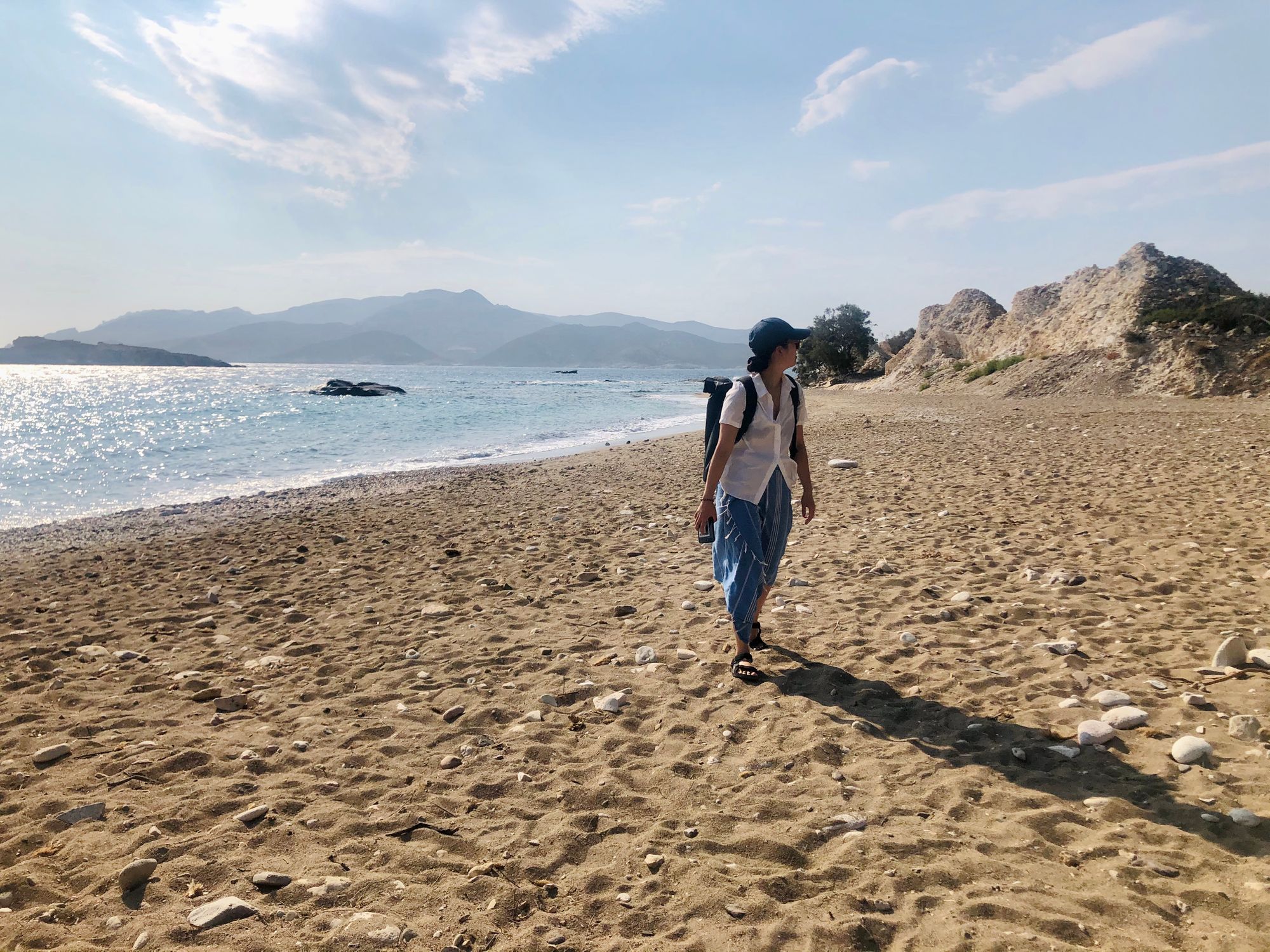 Bottomline: Visit Milos
So far we have been to 2 islands: Agistri and Milos. While the latter is further away from Athens it offers many different types of experiences.
Go if you have time.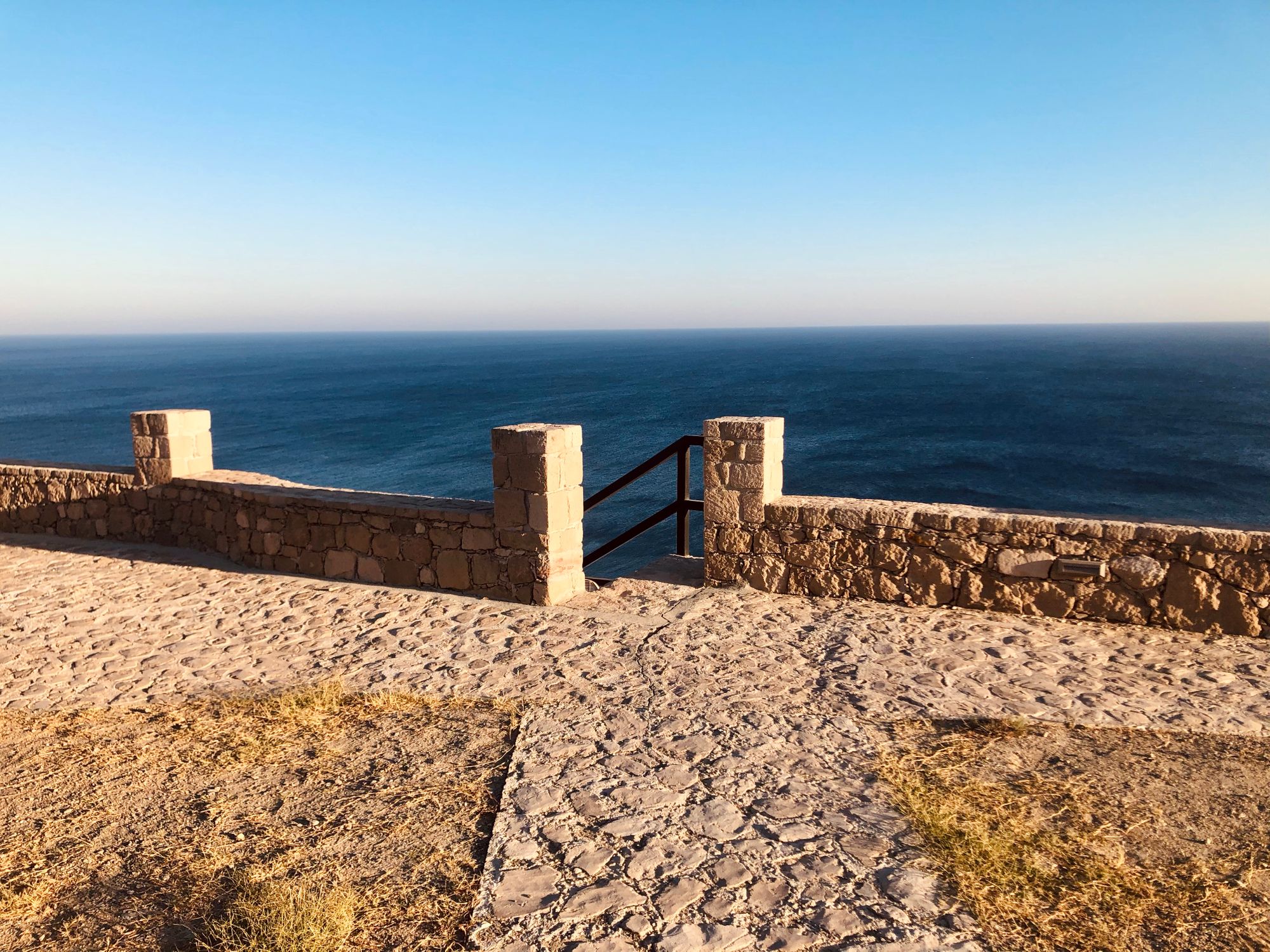 ---
🏛️ Athens: One of My Favorite Cities
Unfortunately I didn't take as many pictures in Athens as I did on Milos. Hence, most of this will be in writing.
Districts: Areas in Athens 🗺️
One-liners for each district + my personal comparison to areas in Berlin, New York, and San Francisco.
Kolonaki: Upscale commercial and residential area for local and international audiences. [think: Charlottenburg; Upper East Side; Pacific Heights]
Keramikos: Industrial part of town with hip nightlife full of restaurants, bars, and music venues. Rough on the edges. [think: Neukoelln; Brooklyn; Mission District]
Petralona: Close to touristy area but also nice residential area with a neighborhood vibe. [think: Kreuzberg; ???; North Beach]
Monastiraki: Touristy and commercial center of town but has many hip spots. [think: Hackescher Markt; 5th Avenue; Market Street]
Exarchia: Fuck the system! [think: Friedrichshain - Rigaer Strasse; East Village; Ashbury Haight]
Koukaki: Some cool spots but mainly geared towards airbnb crowd. [think: Alexanderplatz; Times Square; Fisherman's Wharf]
Pangrati: Upper middle class residential area with lots to offer. [think: Prenzlauer Berg; West Village; Duboce/Mission Dolores]
This is by no means a complete list of districts, merely a list of places where we hung out the most.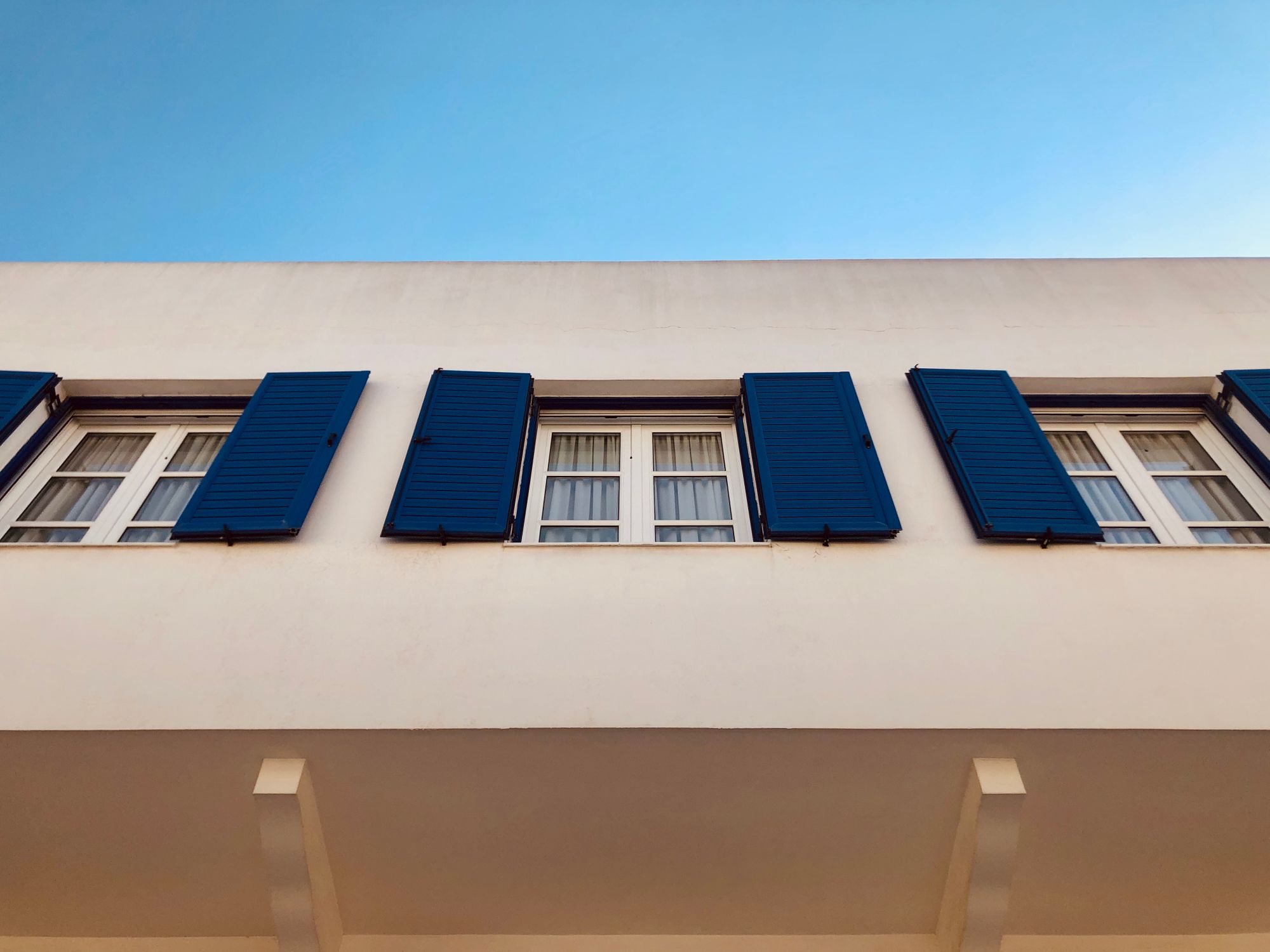 Remote Working: Coffee Shops ☕
Here are my favorite coffee shops in no particular order:
Thirdplace.Athens: Best-geared coffee shop for work. Lots of plugs and working space + coffee and craft beer en masse.
KINONO: Ultra hip bar, which offers brunch and wifi from the early morning. Stable wifi + a few plugs in a nice setting.
Anana Coffee|Food: Third wave coffee if I've ever seen one. Good wifi, not sure if they have plugs.
The Underdog: Hip coffee/brunch/craft beer place in Thissio. Lots of space and solid wifi.
---
This is work in progress and I'll constantly expand the list. 🚧
I hope this helps. If you have questions or feedback, please hit me.
🙌
Enjoying these posts? Subscribe for more