Consistent Brand Execution Wins: A Starter's Guide to the Brand Pyramid Framework
The Brand Pyramid is the highest-leverage framework for brand strategy. This post shows how to apply it.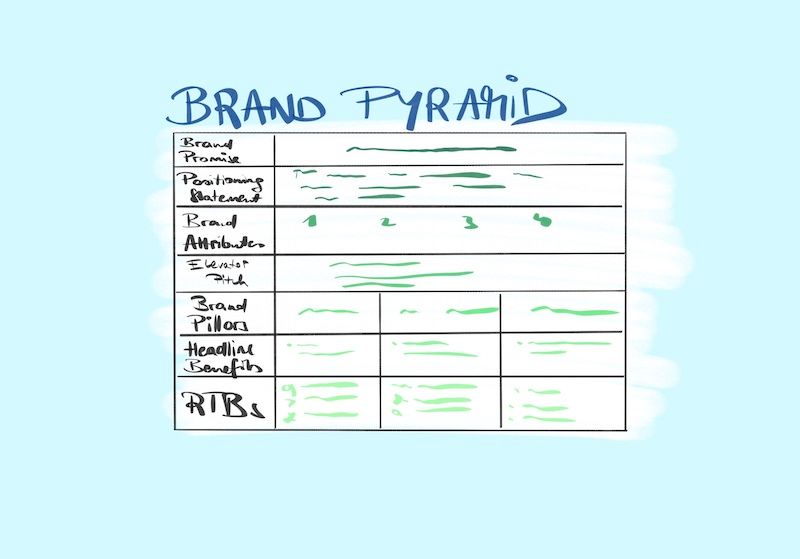 I'm currently turning these principles into an online course for practitioners:
Learn Brand Strategy for Practitioners 🧰
---
Building a brand is about keeping promises over and over again.
This is a starter's guide to consistent brand execution.
---
Brand Execution: Senders, Receivers, and Feedback Loops
Strong branding is the result of the following:
Insight: Gain Insights from market research
Strategy: Define your strategy (positioning statement; USPs; etc.) from your Insights
Execution: Define your brand using the Brand Pyramid and execute accordingly.
To understand the workings of brand execution it helps to look at the Shannon–Weaver model of communication.
In the context of brand execution the model works as follows:
Brand Identity: The sender (brand) externalizes its brand identity (inside-out) via brand codes (messages; tonality; colors; products; experiences; etc.).
Brand Image: The receiver (customer) decodes the message and internalizes it as a brand image (outside-in) and builds associations (attitudes; attributes; etc.).
Feedback Loop: The sender receives a feedback response from the receiver. If it is not the intended feedback, the message should be adjusted.
---
Consistent Branding: Why It Matters and Who Does It Well
Complexity and Confusion: The Silent Assassins
When brands grow they increase in complexity:
Organization: Increased headcount; new departments; new structure; etc.
Audience: More of the same customers; new group of customers; etc.
Value: New products/services; new business model or pricing; etc.
Complexity increases the number of touchpoints. If a brand is not able to deliver on its promise it leads to instability.
Internal: Confusion about the brand identity and inconsistent delivery of the brand promise
External: Inconsistent experience leads to false associations and an incorrect brand image
Consistent brand execution – across all touchpoints – helps to build a strong and positive brand image on the receiving end.
---
Best Practice: Tight Brand Guidelines and Consistent Execution
You can find many well-made brand guidelines online. One of my favorite pages to browse recent projects is Under Consideration's Brand New section.
Below are two examples, which have impressed me.
Atlassian: Reorganizing the Brand
Atlassian is an software company with an interesting challenge:
Own Products: JIRA; Confluence; etc.
Acquired Products: Hipchat; Bitbucket; Trello; etc.
Different Audiences: Customers ranging from individual users to enterprise-grade organizations
When a brand consists of a variety of products and sub-brands it is called a 'House of Brands' (different senders; different brand codes). This is the type of complexity mentioned in the section above ☝️
Atlassian decided to rebrand with the goal of becoming a 'Branded House' (same sender; same brand codes). The Atlassian design team wrote a behind-the-scenes blog post (highly recommended reading).
The results:
The guidelines have many use cases:
Reference: Single-source-of-truth for alignment.
Onboarding: Single package, which can be used to onboard internal and external collaborators for projects (marketing; design; development; etc).
Press/Media/External: Rules how to use Atlassian's brand assets.
Mailchimp: Streamlining Writing
Mailchimp's writing guide is one of my favorite examples.
Since it is a company centered around writing it ensures that it provides a best-practice example for its own employees as well as writers in general:
https://styleguide.mailchimp.com/
---
The Brand Pyramid: Your Brand Identity on a Page
"Everything should be made as simple as possible, but not simpler" – Albert Einstein
My favorite branding tool is the Brand Pyramid. Just like a Swiss army knife it's useful and packs small.
I usually include the following sections in a Brand Pyramid:
Brand Promise: What should the audience expect?
Positioning Statement: What is the brand about and in which market context?
Target Audience: Who is the audience?
Tone of Voice: What is the brand's tonality?
Elevator Pitch: How do we describe the brand in one sentence?
Boilerplate: How can the brand be described in a boilerplate format (e.g. linkedin about page)?
Brand Pillars – Benefit: What are the cornerstones benefits of the brand?
Brand Pillars – Product: What is the cornerstone offering of the brand?
Headline Benefits: How can each offering be summarized in one sentence?
RTBs (Reasons to Believe): What are the proof points to back up the claims?
The content that goes into the Brand Pyramid is a result of market research and brand strategy (this will be the focus of a future post).
Let us have a look how Atlassian would be using the Brand Pyramid.
Atlassian: Communicating Jobs-to-be-Done Bundles
Atlassian's homepage follows a high-level to low-level messaging sequence. It starts with the company's goal and ends on specific products that help to achieve that goal.
Red Bull: Using Multiple Brand Pyramids
Red Bull is another interesting example since it is a brand that competes in many different markets (consumer-packaged goods; professional sports; media; etc.).
If done correctly, the brand has vertical and horizontal alignment:
Vertical Consistency: The brand is aligned top to bottom so that the most granular product features tie into the brand promise and vice versa
Mutually Exclusive, Collectively Exhaustive (MECE): All brand pillars are mutually exclusive so that each pillar/product/benefit works as a stand-alone sender
---
Practical Applications: How to Use the Brand Pyramid
A teacher of mine once said that in social sciences all models are approximations, it's not an exact science. The takeaway: adjust the framework to work for the context of your brand.
Since I have mainly worked in B2B software/adtech, writing was key to brand execution.
In this context the Brand Pyramid codifies strategies from the highest level (brand promise and positioning statement) outlines talking points on the most granular level (e.g. product features).
Below are a couple of examples of how we have used this framework:
Alignment
This concise one-pager can be used to onboard and align everyone from a C-level executive to the new intern.
Reference
All messaging can be referenced and aligned against this framework:
Sales: Decks; emails; etc.
Marketing: Product marketing pages; swag; etc.
Product: UX; tone of voice; etc.
Internal Communication: Company wiki; internal announcements; etc.
External Communication: Press releases; etc.
The Brand Pyramid makes it (1) easier to enable individuals to execute within the parameters of the brand and (2) reduces unnecessary feedback loops.
Specific messages (how) and narratives (what) need to be tailored to different audiences (internal/external; junior/senior; user/decision maker; etc.) but the Brand Pyramid provides a consistent starting point.
Product Value Proposition Documentation
Similar to the Red Bull example from above you can use a separate Brand Pyramid for each product, that way your product organizations have specific guidelines, which still tie into the brand's high-level Brand Pyramid.
Content Marketing Roadmap
Generating content marketing ideas can be easy:
Thought Leadership Pieces: Use the upper sections of the Brand Pyramid to talk about the long-term vision of the brand/market/etc.
Evergreen Content: Use the audience and brand pillar sections to compile benefit-oriented evergreen content (ebooks; whitepapers; etc.)
Technical Content: Use the RTB section to produce in-depth content (product marketing; product documentation; how-to guides; etc.)
The possibilities are endless.
---
Bottomline: Consistent Brand Execution Wins
Branding is like a dialogue between the brand and an audience. The brand sends signals (messages; brand codes; etc.) and the receiver decodes and interprets those to form an image. This process takes time.
Consistent brand execution is like keeping promises. Over and over again.
If you are interested in learning the Fundamentals of Brand Strategy yourself, you can take my online course about the Brand Pyramid framework 👇
Learn the Fundamentals of Brand Strategy
---
You rock if you read through the end🤘
If you have feedback, questions, or just want to say hi, please hit me up on twitter
Special thanks to Tosh, Lukas, and Finn for proof reading, clarifying discussions and directional feedback.
Enjoying these posts? Subscribe for more