e-Residency in Estonia 105: How to Run an Estonian Business Day-to-Day
This post covers the minimum viable tech stack, the costs, and the effort to run an Estonian e-business.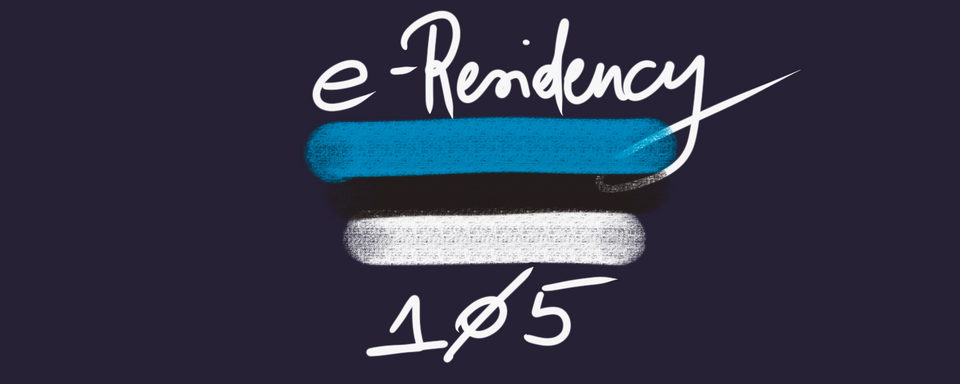 Disclaimer: I'm not a financial advisor and this is not financial advice.
Congrats, you are incorporated in Estonia.
Now how do you go about running your business from now on? 😳
---
Minimum Requirements to Run an Estonian Company
I run remote fabric as an Estonian limited liability company.
In this section I'll look at the business operations for my solo-business - specifically the tasks I have to do on a monthly basis:
Quick Health Check: Cash Flow + Account Balance
I want to make sure to have a directional feeling for how the business is doing.
Are we going up, are we going down, or are we stagnating?
This includes a look at my payment processor and my bank account balance.
Submit Purchase Invoices
It is my task to upload all purchase invoices - these are my business's expenses, which include one-off transactions (course purchase; plug-in; etc.) or recurring payments (SaaS subscription; etc.).
I have an email-forwarding link for Companio's dashboard. Whenever I receive my purchase invoices via email I can auto-forward them directly into the accounting system.
Occasionally I have to upload these invoices manually.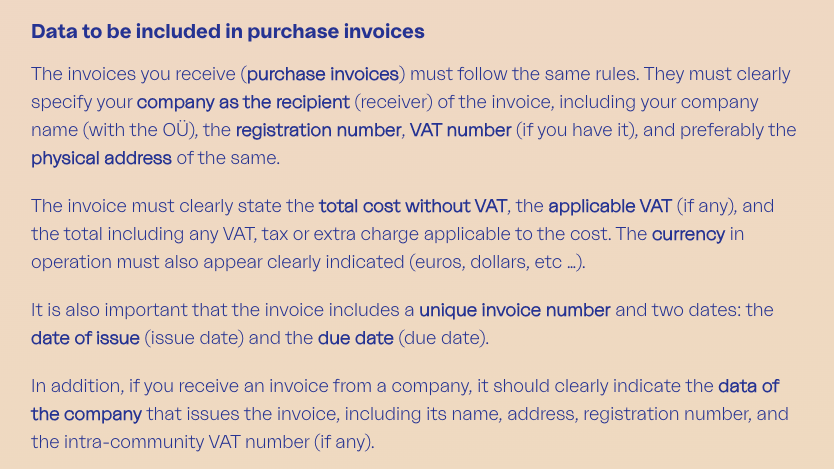 Submit Sales Invoices
Similar to the purchase invoices it is also on me to upload matching invoices for my sales.
Since I'm using Stripe Payment Links I am still creating manual pdf invoices to match the tax requirements: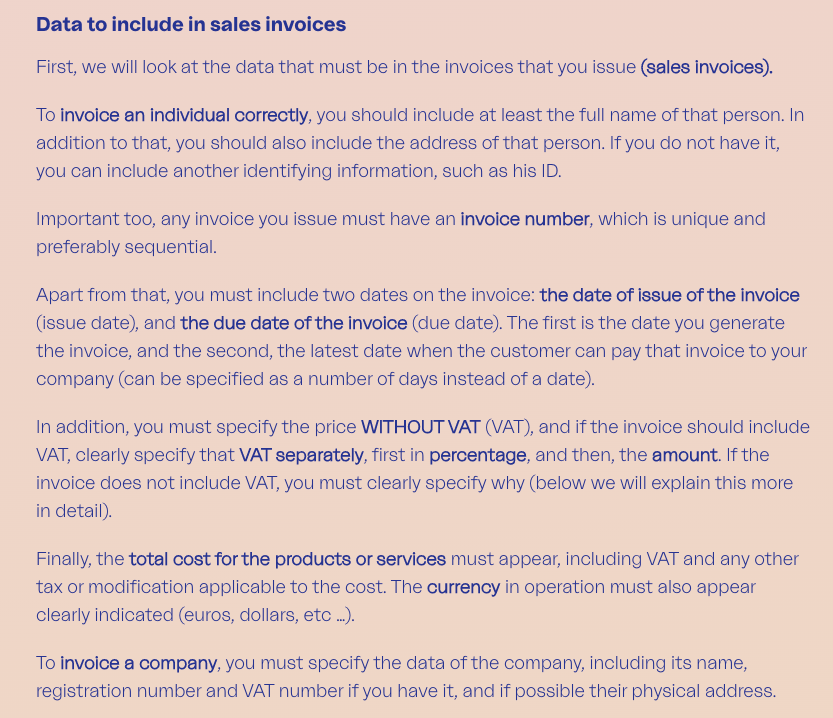 Currently, I have a low amount of transactions. That's why I'm doing this step manually.
Once the transaction volume increases I would look into specialized SaaS providers to handle the invoice creation.
Respond to Requests from Companio's Agents
Occasionally my back office team from Companio gets in touch with me to either (a) resolve questions around some of the uploaded invoices or (b) to inform me about a task I need to complete for compliance/registration reasons.
This happens more frequently at the beginning of an engagement. Once you get into the groove of daily operations this becomes rarer and rarer.
Initiate Bank Transfers When Needed
It is convenient that I can sign a Power of Attorney (POA) for Companio's agents. This POA is valid for all accounting- & taxation-related matters.
The management of my bank account is still exclusively handled by me. That's why I'm responsible to handle all bank-related tasks like transfer initiation and issue resolution.
---
Minimum Viable Tech Stack
What is the best tech stack for your business? The one that works for you.
Seriously though, it highly depends on the type of business you are running, your personal preferences, and how much money you are willing to deploy into your tech stack.
Here's a Tweet I shared in 2021. It outlined my tech stack back in the day.
I'll describe some of the cornerstones of my current setup:
Google Workspace: Domain Management + Productivity Infrastructure
Cost: $6/mo
You know what Google Workspace does.
Notion: Knowledge and Content Management
Cost: free
I am still using the free version of Notion for my business. Once you want to add collaborators to documents you need to upgrade to the paid version of Notion.
Everything in Notion is structured via relational databases.
One of my main use cases is Notion as a CMS alternative for my company's blog.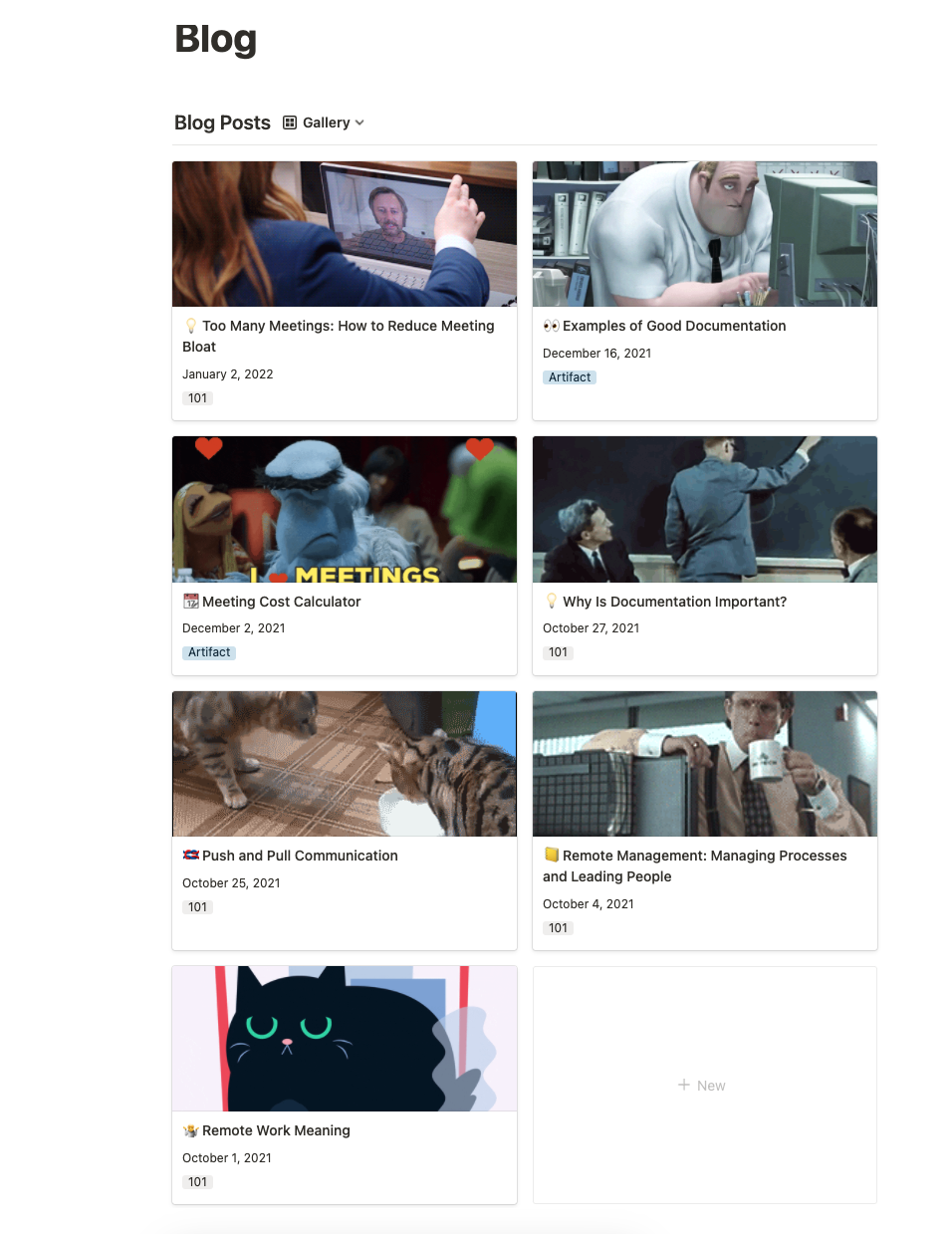 Super: Rendering Notion Pages as a Static Website
Cost: €12/mo
I'm using Super as a rendering layer for my Notion pages.
That way I can have all my content in Notion and select a few pages, which I want to have displayed as my website.
The big advantage here is that if I need to make a change to the website I can just edit the respective Notion page from my phone and it will be updated in a couple of minutes.

Wise: Remote Banking 🏦
Cost: variable
I am using Wise Business as my bank of record.
The signup was quick and I didn't have to enter a branch since the entire KYC was conducted digitally.
Wise has 2 key advantages from my perspective:
Multiple IBANs: You can accept payments in the US as well as in the SEPA network (i.e. EU). Wise gives you multiple IBANs for the different banking systems. Previously you would have had to open separate international accounts with local banks.
Cheap Currency Exchange: Wise offers the cheapest currency exchange (FX) rates on the market. This is relevant if you have sales or payments in different currencies.
Companio: Back Office 📠
Cost: €94.80/mo
As discussed during my previous post, I'm using Companio to handle accounting, tax matters, and back-office tasks.
Stripe: Payment Processing and VAT Collection
Cost: variable
I'm using Stripe to process payments for my online course about documentation.
Stripe has recently also introduced Stripe Tax, which makes it possible to automatically calculate the relevant VAT rate for EU sales.
I still have to do the invoice creation and tax remittance but at least the initial tax rates are being calculated for me.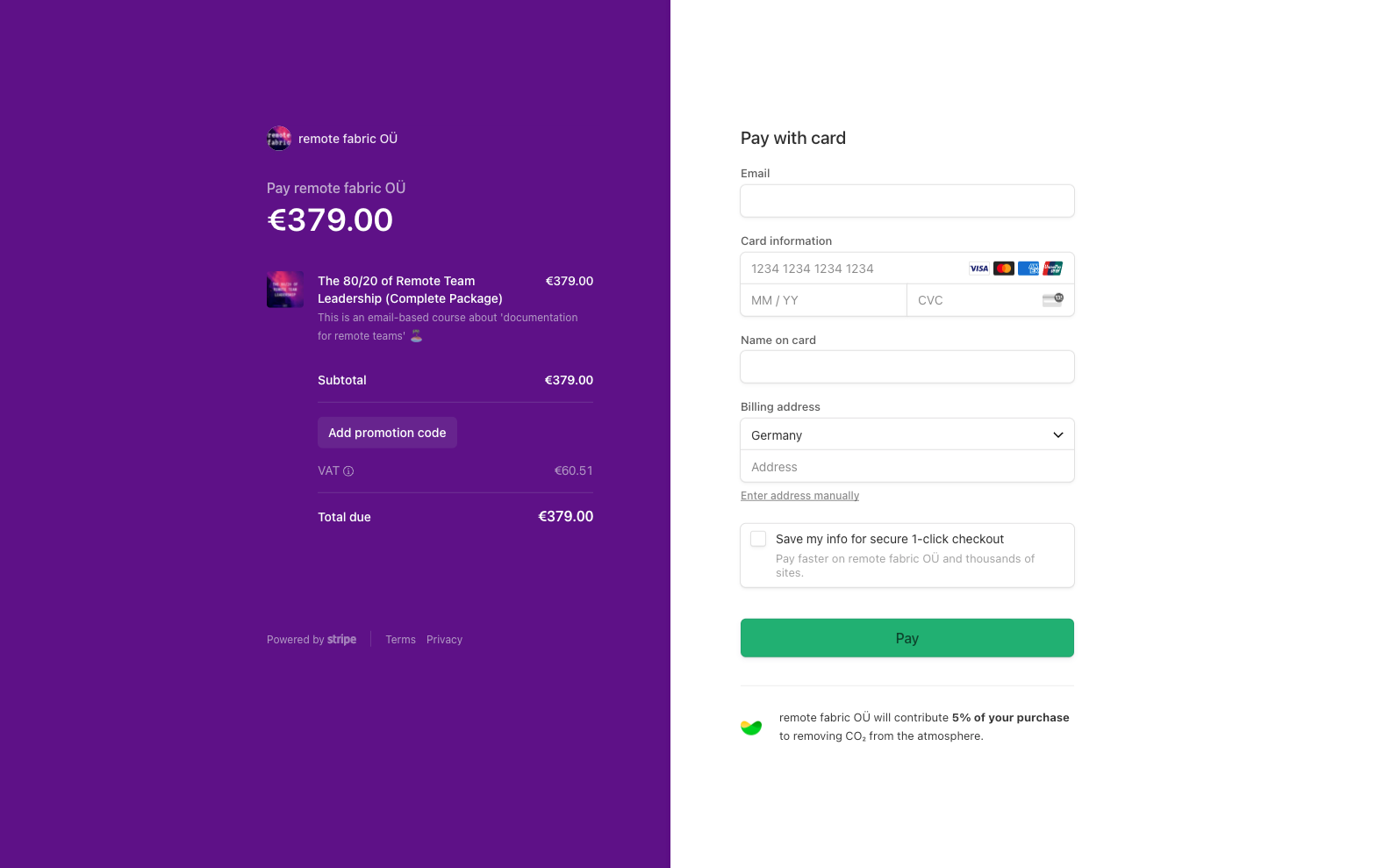 MailerLite: Email Service Provider (ESP) of Choice
Cost: $84/yr
My first product is an email-based course about documentation for remote teams.
To automate the product delivery and the customer experience, I'm using MailerLite. It is a solid product and their customer support is very responsive.
$84 a year is hard to beat.
Zapier: The Glue Between My Apps
Cost: €208/yr
If you run a solo business it helps to standardize and automate anything that you can think of. It saves you time and prevents 'mistakes by oversight'.
I started out using Zapier, since I was already somewhat familiar with it but honestly, there are a ton of alternatives out there like Automate.io, Integromat, n8n, and so on.
I am using it primarily to pipe data from one application into another one.
Example:
Customer purchases my course via Stripe Payment Link
The customer email address from the Stripe transaction is added to a [Group] in MailerLite → this triggers the beginning of the course delivery
---
Bottomline: Streamline, Streamline, Streamline
All in all, it costs me ~€1,600.00 to run remote fabric from a tech stack perspective.
As long as I can cover these costs with a couple of course sales I'm in the positive. Of course, this is without factoring in my own salary. Step by step 🐌
If you have questions/comments/feedback/etc please ping me on Twitter 🙌
Enjoying these posts? Subscribe for more