e-Residency in Estonia 104: How to Incorporate a Limited Liability Corporation
In this post, I explain how third-party service providers help you to incorporate a business in Estonia.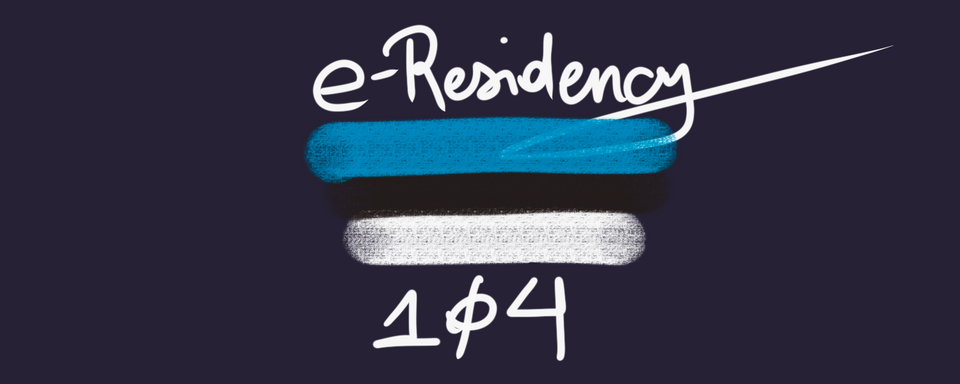 Disclaimer: I'm not a financial advisor and this is not financial advice.
In this post we will cover:
📋 Requirements: What do you need to incorporate?
💪 Service Providers: How to get help?
⏱ Process: How long does it take?
---
Status: When and What Can You Incorporate in Estonia?
Practically speaking you need a status that allows you to incorporate a business in Estonia.
This status can be actual Estonian citizenship but also a valid e-Residency.
In this post, I will share how I incorporated my business remote fabric with the help of a third-party service provider.
Types of Corporations
For the sake of completeness let's briefly discuss the various legal entity types you can incorporate in Estonia 👇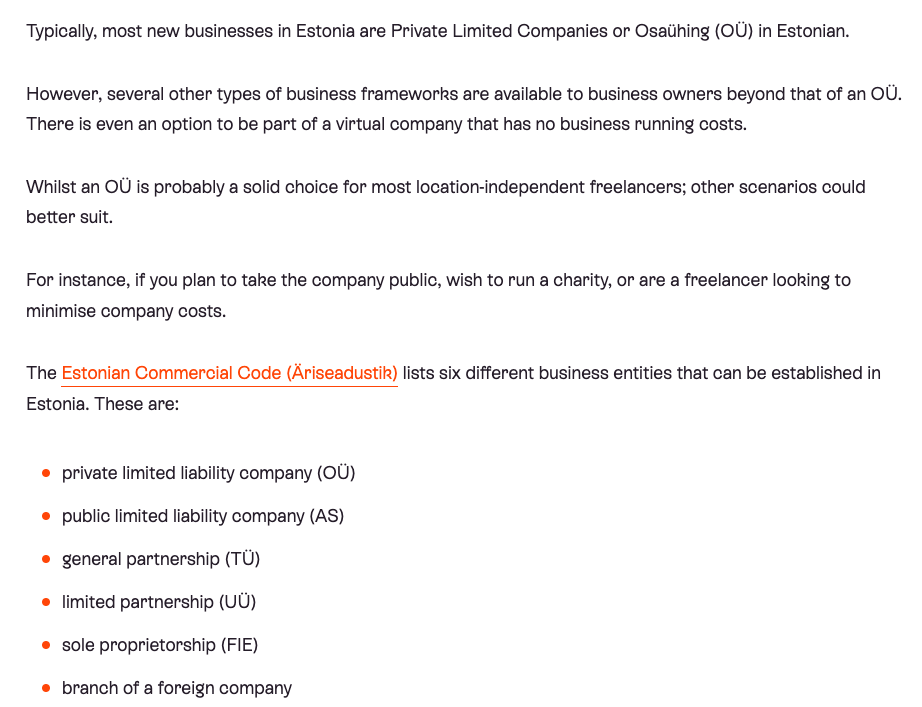 In the context of the Estonian e-Residency entrepreneurs are mainly incorporating private limited liability companies (OUe).
---
Third-Party Service Providers: A Common Helper to Incorporate a Business in Estonia
Once you have your e-Residency Starter Kit you can easily incorporate an Estonian business. You can either do the complete procedures all by yourself or you can hire a third-party service provider.
Various Third-Party Service Providers for Your Estonian Company
The Estonian government has a marketplace where they list all certified service providers 👇
If you navigate to the services filter and select Company establishment and management you will see all providers who specialize in incorporation and accounting.
Before choosing my own provider I talked to a couple of friends and colleagues who had incorporated in Estonia. Two names that kept coming up over and over again were Xolo and Companio (formerly known as "Your Company in Estonia").
My Personal Checklist When Selecting a Service Provider
I went through a mental checklist when making my decision:
📑 Digital Incorporation: Can they take care of incorporation?
🧮 Monthly Accounting: Are they taking care of monthly reconciliation?
💸 Tax Returns: Are they taking care of tax remittance?
☎️ Customer Support: Do they have responsive customer support?
📬 Legal Address: Are they offering a physical mailbox address for my business?
In short: Can the service provider act as an all-in-one back office for my business?
I chose Companio and am quite happy with my decision so far. My friends who are with Xolo are also happy about their service.  
The service provider landscape is changing all the time. Evaluate them for yourself and see what feels better to you.
[Service Providers] Incorporation & Accounting
You can find more options on the official e-Residency Marketplace.
Costs and Process: What Am I Paying For?
I'm currently on Companio's cheapest plan (<20 invoices/month).
It costs €79 (+ 20% VAT Estonia). In total: €94.80 per month. This is my monthly overhead.
I justify it by saying that I should be able to generate €100+/month in revenue. That way my operating costs are covered and I'm on +/- zero at the end of the month. That's the minimum I need to generate.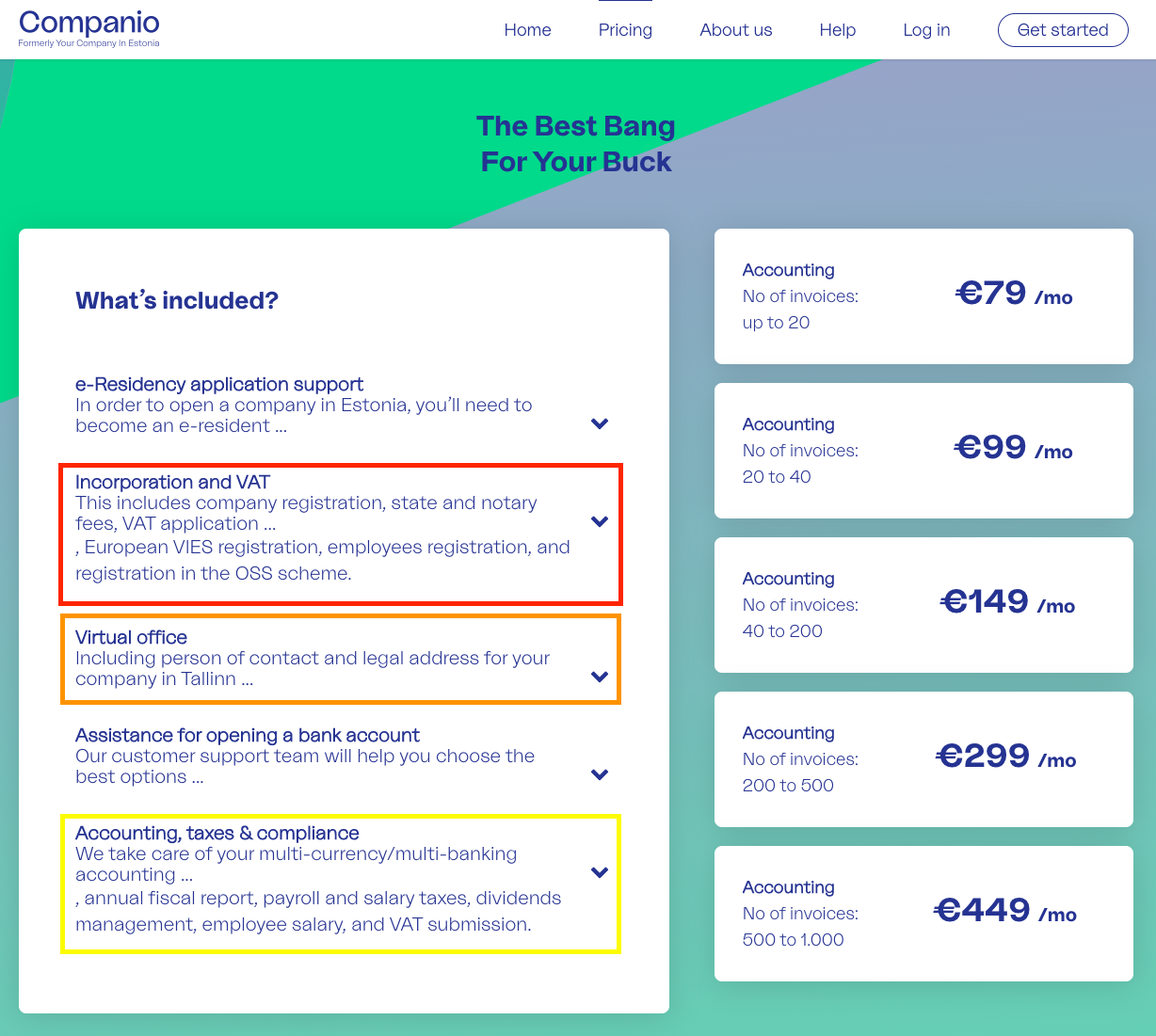 Let's dive into the various services that Companio is taking care of:
#1 e-Residency Application Support
I haven't used this since I applied directly via e-resident.gov.ee
#2 Incorporation and VAT
This is the main service to kickstart your business in Estonia.
The incorporation itself is a one-time fee of €390, which includes state fees and notary fees.
This seems fair since you get the following taken care of:
Incorporation Package (company registration documents)
VAT number
Registration to MOSS scheme (this is very important and I'll cover this in an upcoming post)
Employee registration
#3 Virtual Office
The physical mailbox address is necessary for registering a bank account and other services, which have a KYC (know your customer) procedure beyond an email address.
#4 Assitance for Opening a Bank Account
Companio has an overview of banking providers you can choose from.
I went with Wise Business (formerly known as Transferwise) since they offered a fully-digital KYC procedure.
#5 Accounting, Taxes, and Compliance
Companio offers a dashboard where I can upload purchase and sales invoices. It is my defacto accounting program and Companio's representatives take care of bookkeeping as well as tax calculation.
Companio's representatives are also proactive when it comes to compliance and inform me when I have to complete certain tasks.
Besides their email support, Companio also offers a comprehensive set of FAQ articles online. Here's an example of how to grant Power of Attorney to their representatives. This is important so that Companio can take care of the tasks in the name of your company.
---
How Long Did Incorporation Take?
It took me seven days to incorporate remote fabric from start to finish.
Hands-on I probably spent 60 minutes in total over the span of a week.
[Important] Paying Share Capital for Limited Liability
One of the most important steps during incorporation is to submit a certificate of "paying share capital" into the entity.
As you might remember, you have to pay at least €2,500.00 in share capital.
This certificate has to be digitally signed + has to be in Estonian.
I was afraid that it would be super difficult to get this certificate but actually, it was straightforward since I am banking with Wise - an Estonian FinTech company (founded by early Skype employees - also an Estonian startup).
After transferring the amount into my Wise bank account I contacted their customer support and received the correct certificate within five minutes.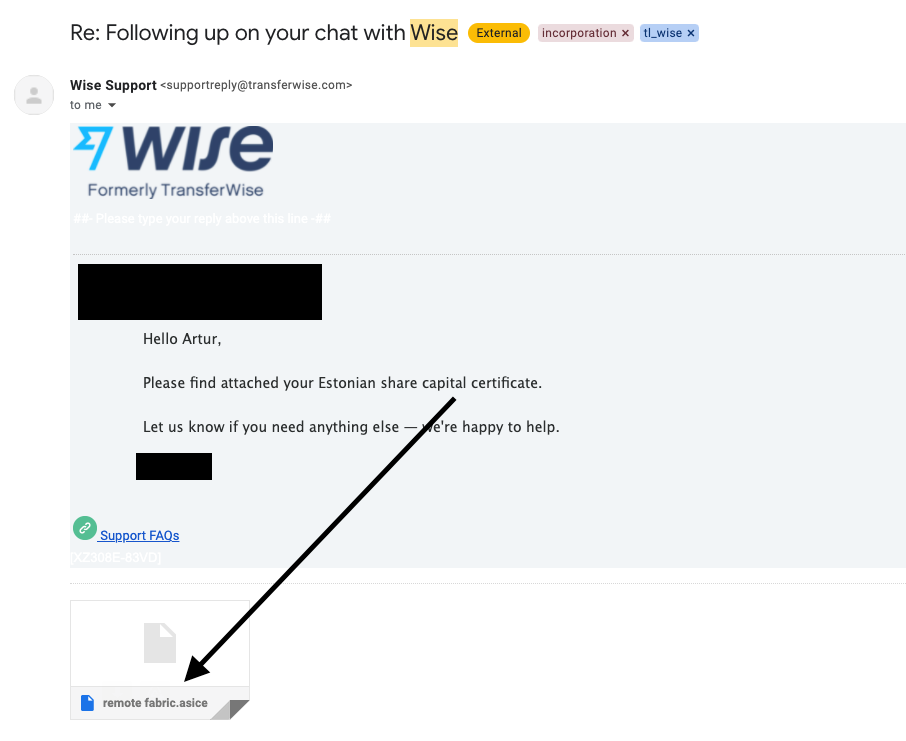 After submitting this certificate to the Estonian business registrar my company was registered as a limited liability corporation.
---
Bottomline: Incorporating an Estonian Business in Seven Days from Start to Finish
I was pleasantly surprised by how seamless the overall experience was for me.
Would I do it again? Yes.
Would I recommend it to you? Depends on what your business context/needs are.
I hope this was helpful. Please let me know if you have feedback/questions/comments/etc and ping me on Twitter.
🇪🇪
The
next post
(105) will cover how I am managing my Estonian OUe on a day-to-day basis.
---
Additional Resources
Enjoying these posts? Subscribe for more