How I Became an Estonian E-Resident 🇪🇪 - Issue #15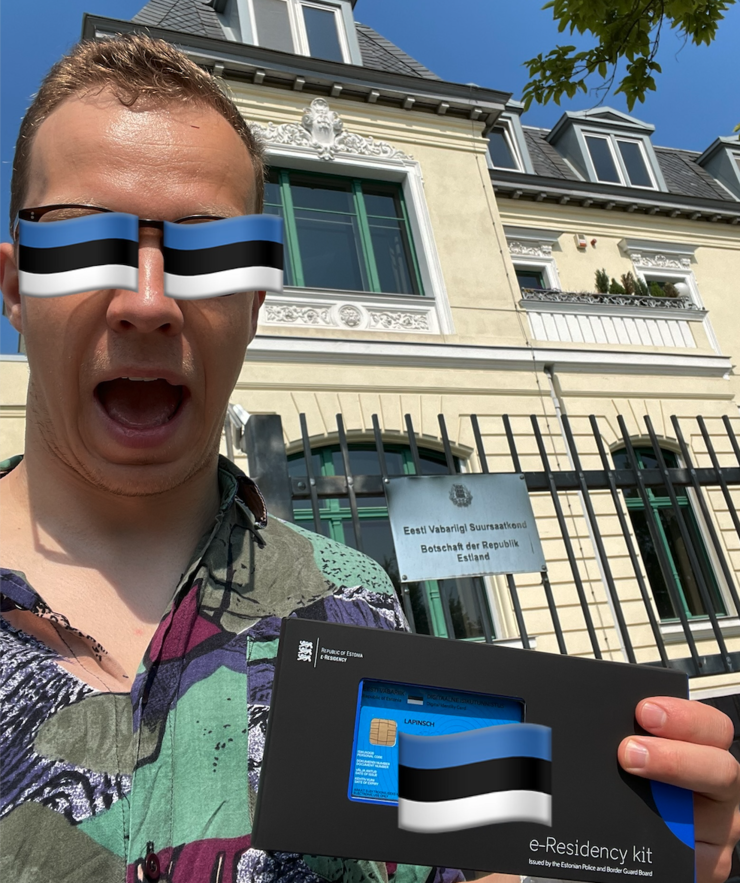 Tere 👋 (= 'hello in Estonian)
Learning of the week: You can use services like Super, Potion, and Hostnotion to turn your Notion pages into a website, which checks the following boxes:
⚡️ SEO Optimization
🎨 Custom Designs
🔗 Custom URLs
I will test it out for my upcoming website and report back. If you have experience with these services I'd love to chat with you.
...
Topics this week:
🇪🇪 Becoming an Estonian e-Resident
💳 Stripe launches their most-requested feature
📑 Documentation for Remote Teams [free workshop]
🖇 @revue & Twitter integration
🇪🇪 Becoming an Estonian e-Resident
A couple of weeks ago I applied for my Estonian e-Residency.
Fast forward I was standing in front of the Estonian embassy in Berlin to pick up my e-Residency Starter Kit 👇
Reasons Why I'm Incorporating in Estonia 🇪🇪
💻 Online First Business: If you are tired of going to the notary for every minor change, then you and I are not so different. Joking aside, I want to test how it feels to run a company fully remote. Dusty bureaucracy be gone.
💶 Straight-forward Taxation: Estonia taxes 2 things: [a] Dividends* (= profits, which leave the company as payouts) and [b] Board Member Salaries** (= compensation for managerial tasks). Both of those have a flat tax of 20%.
* Profits of the current FY can be paid out as dividends only in the following FY
** If you run a one-person operation certain tasks will need to be classified as board member activities and the rest as employee activities. That's why you'll eventually end up having a salary split between board member compensation (20% tax rate + 33% social security tax IF you are not paying into another social security system) and employee compensation (tax-free).
Two Reasons Why NOT to Incorporate in Estonia ❌
As of now I can think of 2 types of businesses, which are not suitable for the 'Estonian route':
🚀 Venture-funded Startup: If you are interested in hyper-growth you will eventually look at institutional funding sources (VCs; etc.) for cash injection. VCs give you money for a part of your company's equity/shares. The Estonian e-Residency scheme currently does not allow company shareholders who are not e-Residents. If you are shooting for the moon use Stripe Atlas and incorporate as a Delaware C-Corp.
🏦 Local Business: If you exclusively [a] operate in and [b] serve customers from one region (e.g. based in Berlin and only serving German customers) then your local tax authorities will classify your business as a local tax resident.
Disclaimer: I keep on learning more and more about this topic and am far from being a pro. None of the above is financial advice. It's my best understanding of the matter.
If you want to riff on this topic, please reach out. Happy to chat.
💳 The Feature Everyone Was Waiting for: Stripe Tax
Stripe finally listened to it's customers and shipped the most-requested feature: Stripe Tax
TL;DR: It's an all-in one solution to calculate, collect, and remit localized sales tax/VAT.
Tax compliance in the US and EU is a major pain.
Hopefully this feature works as advertised and I can get my hands on it in the coming weeks.
I'll write about it in more detail once I have had a chance to test it myself.
📑 Documentation for Remote Teams
On June 30th I'm hosting my second free 60-minute workshop 👇
Sign up to this free 60-minute Zoom workshop to learn documentation best-practices for remote teams.
The last one was a ton of fun and I'll make the requested improvements to the workshop format.
So what are we discussing this time?
If in the past month you have been asked to "hop on a quick call" to explain something to a colleague you know what I'm talking about.
Anything you potentially have to tell/show/explain more than once should be documented.
Write once. Leverage forever.
In this workshop we'll discuss what the world's leading remote companies are doing to leverage their knowledge & time.
Sign up via this link if it is interesting to you.
🤩 'Told You So' of the Week: Revue + Twitter Integration
In my first issue I explained my reason to switch from Mailchimp to Revue as follows:
Creator-Focus: Twitter's acquisition of Revue (newsletter tool) and their launch of Super Follow (audience monetization) and Spaces (drop-in audio channel) indicates that they are building a full-stack solution for creators
A couple weeks later we see what a deeper integration of Twitter & Revue looks like 👇
...
Stay healthy, stay happy 🙌
Art
Enjoying these posts? Subscribe for more