Limits of My Naïveté - Issue #7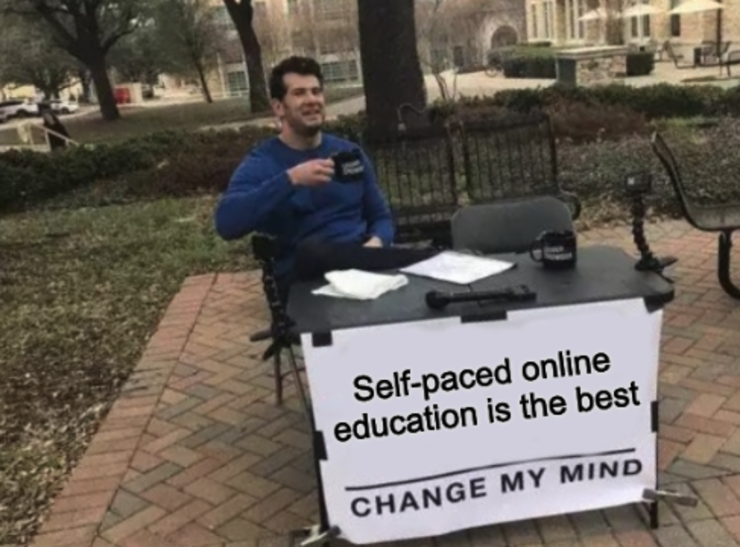 Sup everyone 👋
Question this week: What does 'home' mean to you?
Limits of My Naïveté
This was me in February:
My assumptions back then:
🖥️ Existing Motivation: People are driven and consume educational materials at their own schedule
✅ Guaranteed Completion: If people spend money on a course they will complete it
💪 Proactive Students: If people find something interesting or confusing they will go out of their way to get in touch with the instructor and let them know
Oh man... did I get schooled.
Turns out real life looks a bit different:
🤝 Pressure Needed: No action without peer, cost, or time pressure
❌ Completion Is the Exception: Completion rates in self-paced online courses are <5% on average
💤 Passive Students: People bought the course but remain dead silent
Since launching my self-paced online course I had a couple of sales but no real data points to improve my product. In reality, people have good intentions but life gets in the way.
No feedback. No completions. No testimonials.
Lesson learned: Start hands-on with live workshops and office hours to test the material. Once you have enough feedback and content validation, turn it into an evergreen product.
It is similar to building a business: First, provide a service to generate cash flow and learnings. Then, productize it.
A great model that some of my ODCC peers are doing is 'Hybrid Delivery' 👇
Next-Level in Education: Email Courses
When I hear 'online courses' I am thinking of video-content accessed through a learning platform.
But there's a whole world of transformational education coming straight to your inbox 📧
This week 2 of my ODCC1 peers opened my eyes.
Teaching Investing 101 via Email 📧
Today I sat in on one of the best presentations I can remember.
My buddy Will Steiner shared how his team is running an email-based course about investing.
20 minutes. 8 slides. 10-min Q&A.
No BS. Actionable insights only. 🔥
Check out the website and you'll get a glimpse of their genius 👇
Learning how to invest shouldn't be boring, so we reimagined the experience. A 30-day crash course that teaches you what this stock market thing is all about.
This is one of the reasons why I'm enjoying OnDeck Course Creators so far.
Great people + they share their knowledge openly.
Teaching Camera Confidence 101 via Email 📧
Another great example is Cam Houser. He's an instructor in the ODCC1 program.
I am lucky to be in his peer supporter group and he pointed us to his free 14-day camera confidence challenge.
You receive an email for 14 days straight. 2 minutes reading time. 30-60 exercise of talking into your smartphone camera.
After 6 days I can tell the difference.
If you want to improve your camera presence check it out here.
Future of Education (Part 2) + Feedback Request
I started a public collection of the best ideas I come across during my conversations with other course creators.
Read the thread below and you'll be able to impress (or bore) your conversation partner with thought leadership nuggets from the world of education technology 👇
On another note, I'm giving a workshop about building a remote company.
It would be awesome if you can feedback my outline and let me know what is 👍 and what is 👎
...
Thanks for reading this long issue.
As always, stay happy, stay healthy!
I'd love to hear from you. 🙌
Enjoying these posts? Subscribe for more