Podcasts, Calendars, and Education 🎙️ - Issue #6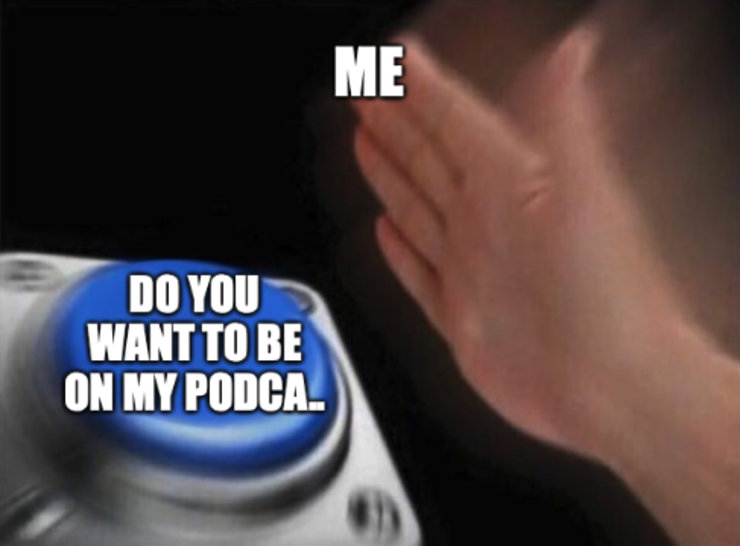 Hi everyone 👋
Question this week: What is a book/article you recommend to your friends?
"Mom, I Was on a Podcast"
No joke, I just came off of my first time being interviewed for a public podcast episode (will share the link once published). It was mainly about music, books, and art.
Two observations/topics from our discussion:
Good speaker ≠ good conversationalist
Non-fiction writing is explicit (= pornography); fiction is implicit (= eroticism)
Stay tuned.
Calendar Management
Last week I mentioned that I started OnDeck Course Creators - an 8-week online course about course creation.
Here's the difference between past Art and status quo Art:
🙂 1 week ago: "I will have time to connect with people, take the classes, do follow up work, and implement the learnings into my current online course."
😰 Now: "I am falling behind. Too much content. No chance in hell that I'm working on anything else in parallel."
Being in the arena is always more difficult than what it looks from the outside.
One of the main values of this program is to connect with other course creators, who have completely unique perspectives on online education.
The recommendation is to network during weeks 1-3.
I use calendly to schedule my sessions.
It saves so many hours + makes it easy to get the logistics of a meeting (when + zoom link) in place.
If you haven't tried the tool, give it a spin. Easily unlocks a couple of hours a month.
Voice Strain
In the past years I primarily communicated in writing. Now with non-stop speaking I feel my voice getting strained. (Oddly enough, it gets more strained speaking in English than speaking in German)
Can you recommend anything that has helped you?
Future of Education (Part 1)
During OnDeck I'm jamming with online educators all-day everyday and there's nuggets of gold all around me.
I'll share my notes with you. These are interesting ideas I've come across during week 1:
Online Course Accreditation: Proof-of-Work > Certificate
Universities give you a degree while online courses give you nothing.
There's 2 interesting scenarios for online ed certification we discussed:
Standardized Accreditation: Companies like Woolf University pushing the boundaries of hybrid certification (learn course from X educator, but get a degree from known Y university). A distributed/open certification standard is the next step on the ladder, but no one has cracked this nut (yet).
Proof-of-work: PoW is a publicly visible output. Think of a portfolio or a product/service. In the future we might see employers/etc. evaluate a person by the work they have generated vs. the educational credential they have collected.
Feedback Loops: Micromastery & Simulation
Student experiences matter. If you don't understand why you are learning something it's much harder to stick to it.
Two creative ways of improving on the learning experience are:
Micromastery: Break down the course content into the smallest modules, which still teach an applicable skill. Learn for 10 minutes, and apply immediately. This will give positive reinforcement and motivate to go on. (h/t Ryan)
Simulators: Instead of using hypothetical examples involve the student with their own context. My ODCC fellow Mike is doing it via simulated Marketing Mix Modeling. Learners can upload their own data during the learning experience and get a valuable output at the end of each lesson. By the end of the course you know how to do MMM but also you have done it already with your own data. It's genius.
Feedback loops are a powerful concept in a teacher's toolbox.
I will report back next week.
--------
As always, stay happy, stay healthy.
Let me know what's on your mind. I'd love to hear from you.
Enjoying these posts? Subscribe for more