Taking Myself Out of the Equation 👻 - Issue #5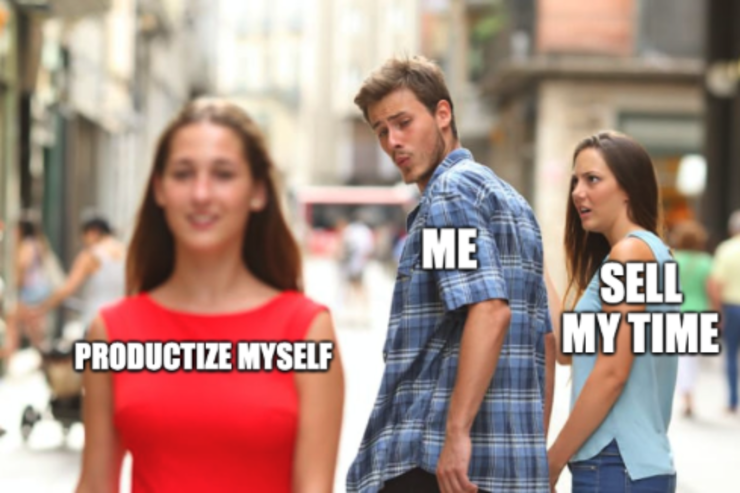 Hey friends 👋
Question this week: Are you moving soon or did you just move recently?
We are and it's a bitch.
Productizing Myself
My friend and co-founder Erik used to say: "What can be automated, will be automated."
The idea is to build scalable systems.
If you do something more than once, automate it with software.
I'll paraphrase it by saying: "Knowledge that can be productized, should be productized."
In short: If you communicate anything more than once, document it (publicly).
Wikis
Public newsletters
Public tweets
About pages
etc.
Create it once, distribute it forever.
Productizing my Introduction for #ODCC1
This week I'm joining On Deck Course Creators - a 10-week online course for people who are building online courses.
One of the main benefits of this course is the network of fellow students. In this course we are ~130 people.
This means a lot of introductions. A lot of typing or copy/pasting.
To scale my time I created a public about me page for this course.
It saves time and I can reference it.
Check the page via this link 👇
A new tool that blends your everyday work apps into one. It's the all-in-one workspace for you and your team
Why am I telling you this?
You can use documentation to save your precious time:
General-purpose about me page
Public portfolio if you are looking for a job
Onboarding documentation for new team members
How to work with me page [GitLab's CEO Handbook]
etc.
Best Essays this Week
I'm still writing (read: "documenting") daily.
Here are the top 3 atomic essays from last week:
We Are a Bunch of Clowns (shoutout to my friend Spencer whom I'm quoting here)
-----
As always, stay healthy, stay happy.
Would love to hear from you.
Enjoying these posts? Subscribe for more