🕹 Life Is a Game 🚔 - Issue #11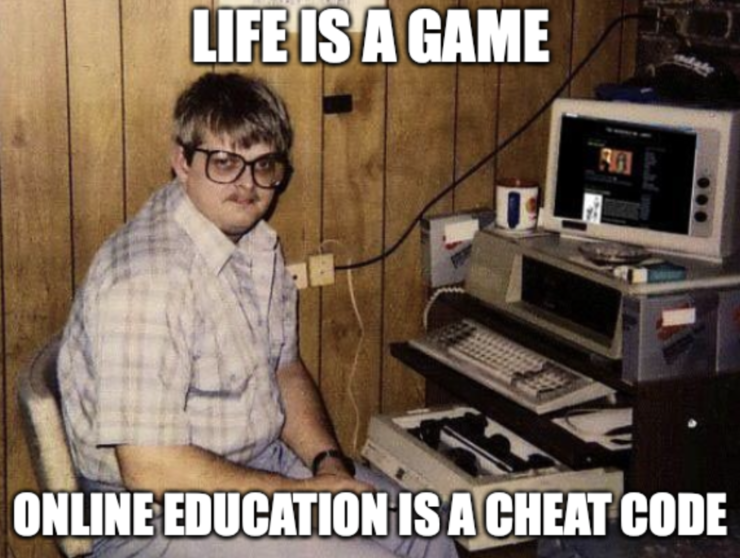 Hi y'all 👋
Question for you this week: Do you watch the Eurovision song context?
Today we'll cover:
🎮 Life as a Game + Online Ed as a Power-Up
🏝 Remote Team Meetings 101 + Free workshop
🇪🇺 My Eurovision Mania
Online Ed as a Booster Pack 🚀
This week I shared a shower thought on twitter: Online Education Is a Power-Up for Your Life 💪
I was blown away by the resonance it had. Many people reached out and I even have a zoom call today to discuss this idea in detail.
Here's the full thread for reference 👇
Idea Takeaways
Here a couple of further observations/nuggets around this idea:
#1: The Market Rewards Education 💵
My friend Matt (former poker pro + economist) had shared an economics research paper with me where it shows that the US Labor Market rewards higher education in real $$$.
#2: Career Switching Is More Common 🔁
Participants in the Labor Market need to update their skillset at a faster rate.
🧭 Function switch
🏭 Industry switch
🍼 Life-phase switch
#3: Online Ed Is a Speedboat 🚤
One of my ODCC1 mentors - who is also a teacher at a large US university - referred to traditional education being a dumpster fire 🔥
Some of the challenges:
Topical Lock-in: You pick your degree and you're stuck with it. Syllabus does not change as fast as real-market best-practices.
Temporal Lock-in: You sign up. Thanks for sticking with us for the next 4 years.
Exploding Costs: Price point of traditional edu in the US extremely high. And prices are hiking up and up.
In my eyes it's not a good fit anymore if your professional/personal success depends on learning applicable skills quickly & cheaply.
Alternative methods of learning - which I'm referring to as Online Education -  are:
Self-directed learning
Email-based courses (EBCs)
Self-paced/evergreen courses
Cohort-based courses (CBCs)
and many more...
Online education has some advantages because it is more nimble:
Topical focus: Online education competes in a free market. The product needs to be top notch, otherwise you will not be able to compete. Best-practices are at the core of the curricula
Temporal advantage: Online education delivery format can achieve a student transformation in anywhere from 5 minutes (task-based playbooks or EBCs) to 3 months (in-depth CBCs)
Lower Price Point: Currently online ed formats are priced anywhere between $0 - $6,000
If Traditional Education is a massive oil tanker, then Online Education is a nimble speedboat 🚤
Twitter Takeaways
Here are some complementary thoughts/observations about the thread:
Twitter is a bubble: People who try to 'game' Twitter are already bought into this idea == higher resonance
Building in public is cool: Sharing and learning in public increases your surface area. Your tribe will find you online. That's pretty cool. == networking on steroids
I have an evergreen blog post where I share how I use Twitter - maybe this might be helpful to you.
Twitter is more like LinkedIn and less like Instagram. In 2021, Twitter is the most useful tool for the Creator Economy.
Remote Team Meetings 101
I hinted last week that I'm working on an online course for managers of remote teams.
Some of the remote management challenges we will address are outlined below.
Offer: If you are interested in this topic and have specific challenges, please reach out to me. Happy to set up a call and see how I can help 🙌
Remote Meeting Workshop on May 31st 🗓
In order to test some of the material and sharpen the syllabus I'm offering a free workshop session on May 31st.
If you are interested in learning some best-practices around meeting organization and facilitation for remote teams then join 👇
In this FREE workshop we will work through best-practices for remote team meetings: 🎈 Reducing Meeting Bloat:  Participant #; Meeting Duration/Frequency 🗓 Doing Pre- & Post-Work: ...
As a side note, I'm using lu.ma to schedule + manage the workshop. It's a free tool that integrates with zoom and many other apps
As a side note, I'm using lu.ma to schedule + manage the workshop. It integrates with zoom and manages all communication with my participants automatically (i.e. reminder emails; link sharing; etc.). The only thing you do is share a luma link ✅
The best thing about it: it's free.
Check it out if you haven't already 👆
As a side note, I'm using lu.ma to
Electro-Folk and Eurovision Mania 🇪🇺
Yesterday I watched the Eurovision semi-finals.
16 countries participate. 10 go through.
I went into the evening with 0 expectations.
Somehow I ended up more invested than I should have been and shouted "YESSSS!" when Ukraine snatched up the last of 10 slots to go through to the finals.
Not sure what happened but their performance was awesome 👇
I guess I just needed someone to root for.
---
Let me know how you are doing. I'd love to hear from you.
Stay healthy, stay happy 🙌
Enjoying these posts? Subscribe for more