Twelve Projects: Update 1.1 (January 2022)
This is the first update about my "12 Projects in 12 Months". It includes 5 Learnings + FAQs.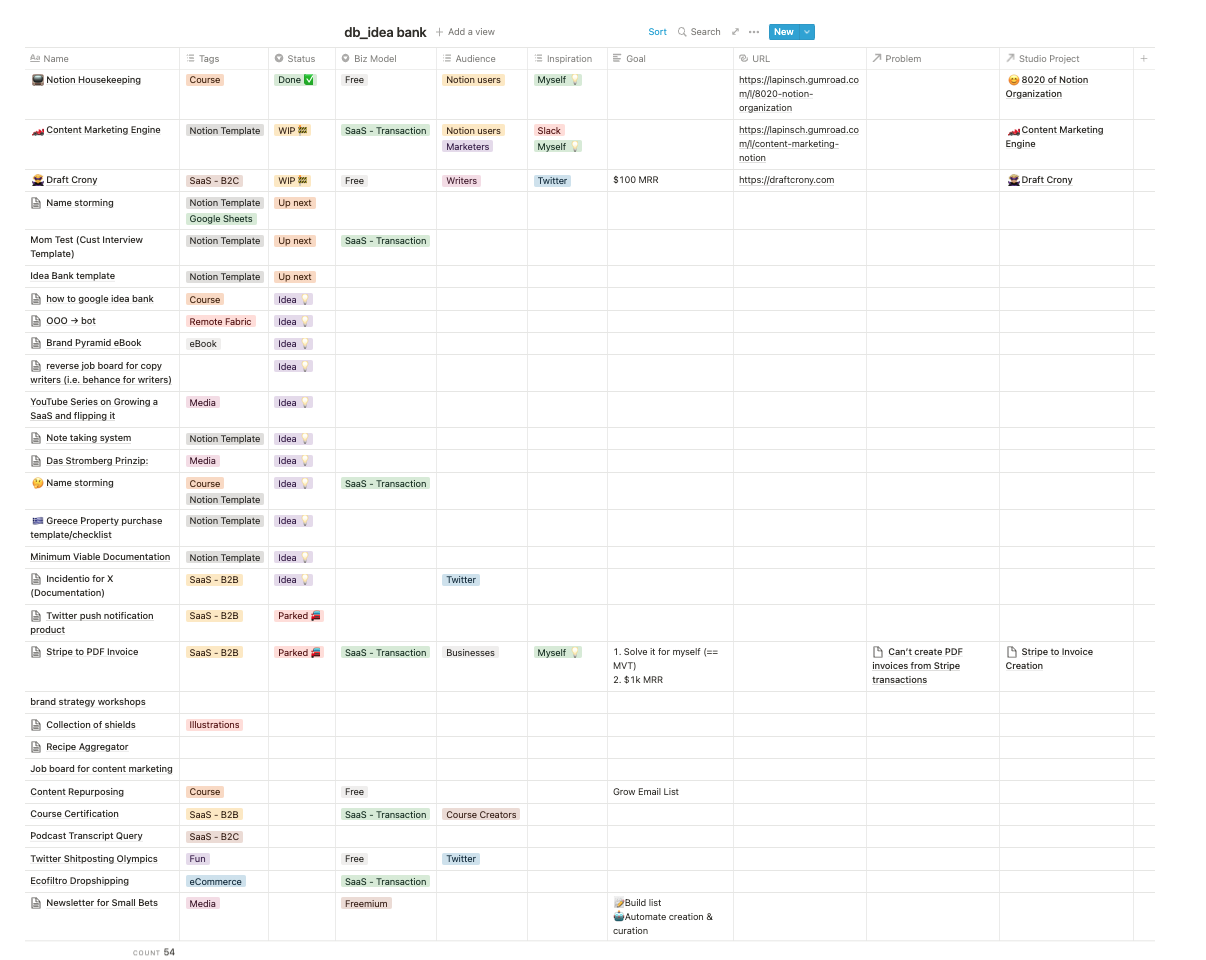 A couple of weeks ago, I published a piece called "My Studio Approach: 12 Projects in 12 Months"
TL;DR: 2022 is about experimenting with a portfolio of small bets.
The resonance to this piece was great and many people reached out to me directly (Joel, Phil, Spence, Patrick, Mo, Corey, Babak, Nick, Mitchell ...).
Thanks for that. I appreciate each and every one of you 🙏
Since this seems to be a topic of interest, I'll do occasional updates about my twelve projects. Off to the first one 👇
---
Update 1.1: Not What I Expected 😬
This tweet sums it up quite well:
---
Learning #1: I Don't Know What I'm Going to Build 🔮
My initial goal for the month was to tackle one of my own problems: When I make a sale with Stripe Payment links, I have to manually create a PDF invoice for my accountants.
As a first step, I went to Twitter and see which solutions are used by people like me. After 48 hours the answer was clear to me: This is not a problem worth solving.
My takeaway is that Stripe users fall into three buckets:
Tech-savvy: They build their own scripts to automate this task
Not tech-savvy (small): They do it manually (like me) and don't want to spend $$$ for a solution
Not tech-savvy (medium+): They use Quaderno.
At the end of the day, I was very happy that I figured this out before wasting too much time. The problem was I needed to find a new project for the rest of the month.
One major learning remains: Don't assume you know what you are going to build.
It's impossible to predict. Just follow your curiosity.
---
Learning #2: Opportunities Are All Around You
"Opps are all around us, I feel it in my toes." - Wet Wet Wet
2.1 Fishing in Your Own Network 🌐
Lucky me, on day 3 a friend reached out and asked me how to build a Notion database for content marketing & book writing.
The funny thing is that I had pondered about exactly that project a couple of hours prior since:
I'm using exactly the same system for my blog on remote fabric
This is something people have asked me in the past
It was a problem worth solving.
Fast-forward 2 days and I was able to share the product with my friend. Now he started using it to write his book:
I still have to add some finishing touches and one explainer video to launch this product publicly.
ETA: End of this week.
2.2 Twitter Is an Idea Generation Machine 🐦
My friend Sara had an interesting observation, which served as the basis for a small no-code project called Draft Crony.
Here are various progress reports on the project:
Check out the product for yourself:
2.3 Look at Your Own Blog 🔍
---
Learning #3: 'Sell' Your Sawdust
In making the content marketing template I had to build a relational database in Notion.

Whenever I show my Notion organization to people they usually say something along the lines "this is so structured" or "you should teach this".
This is what a sample of my Notion workspace looks like 👇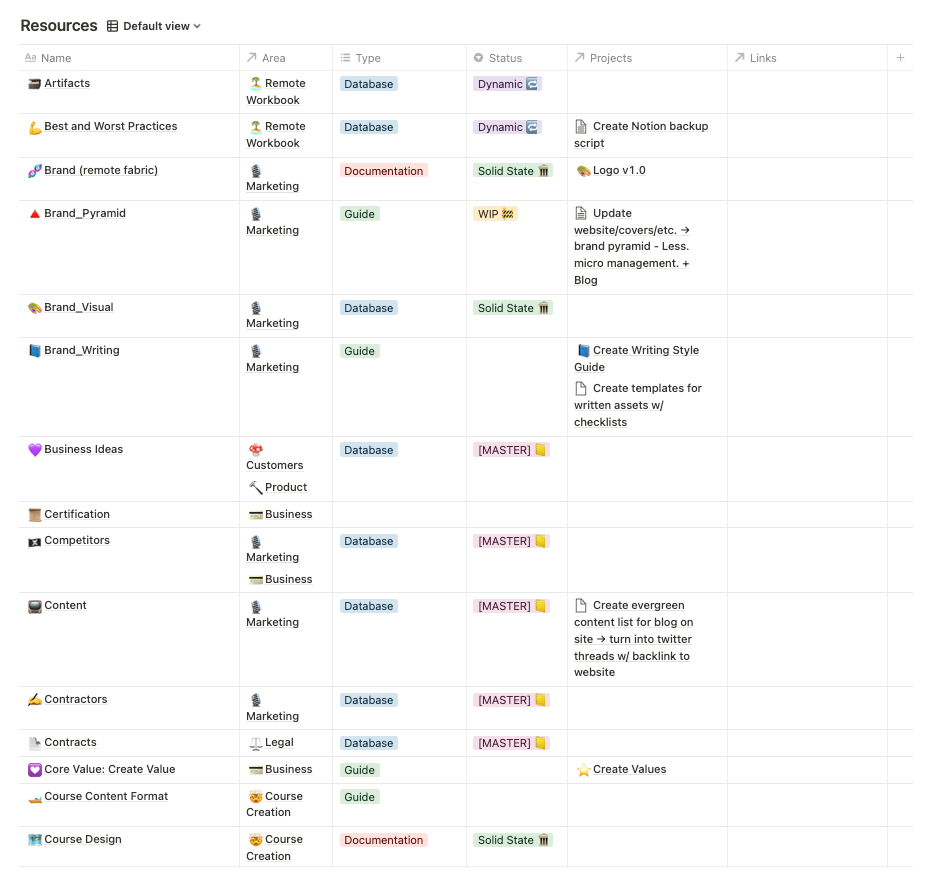 The product idea here was to record myself explaining the basic functions of Notion and screen sharing a database build from a blank page.
The 2-hour recording is live:
😱
Since the video files are larger than 250MB Gumroad forces me to charge for this product.
But they didn't say I couldn't
offer a 100% discount code
to every single visitor to offer this content for free 😏
The takeaway here is that you can repurpose most of your activities to either (a) create a new product or (b) just document your progress and make it available.
---
Learning #4: Keep a Log of All Your Ideas (Especially the Shitty Ones)
Somewhere in the preparation for the Twelve Projects project I read that you should come up with at least 5 business/project ideas per day.
I guess the rationale behind this is to get the Creativity Faucet flowing. Get the gunk out before you can get to the good stuff.
In order to do that I created an "Idea Bank" database where I add all my half-baked ideas. I do it everywhere: at the desk, during a walk, even after taking a shower. Whenever there's a spark, it goes into the list.
Most of it is rubbish but sometimes there are interesting ideas marinating until they can be turned into small projects.
I think my worst idea was a website to rank twitch streams by views and category ... this IS literally twitch.tv 😂
Anyway, this is what my idea bank (free download link) looks like 👇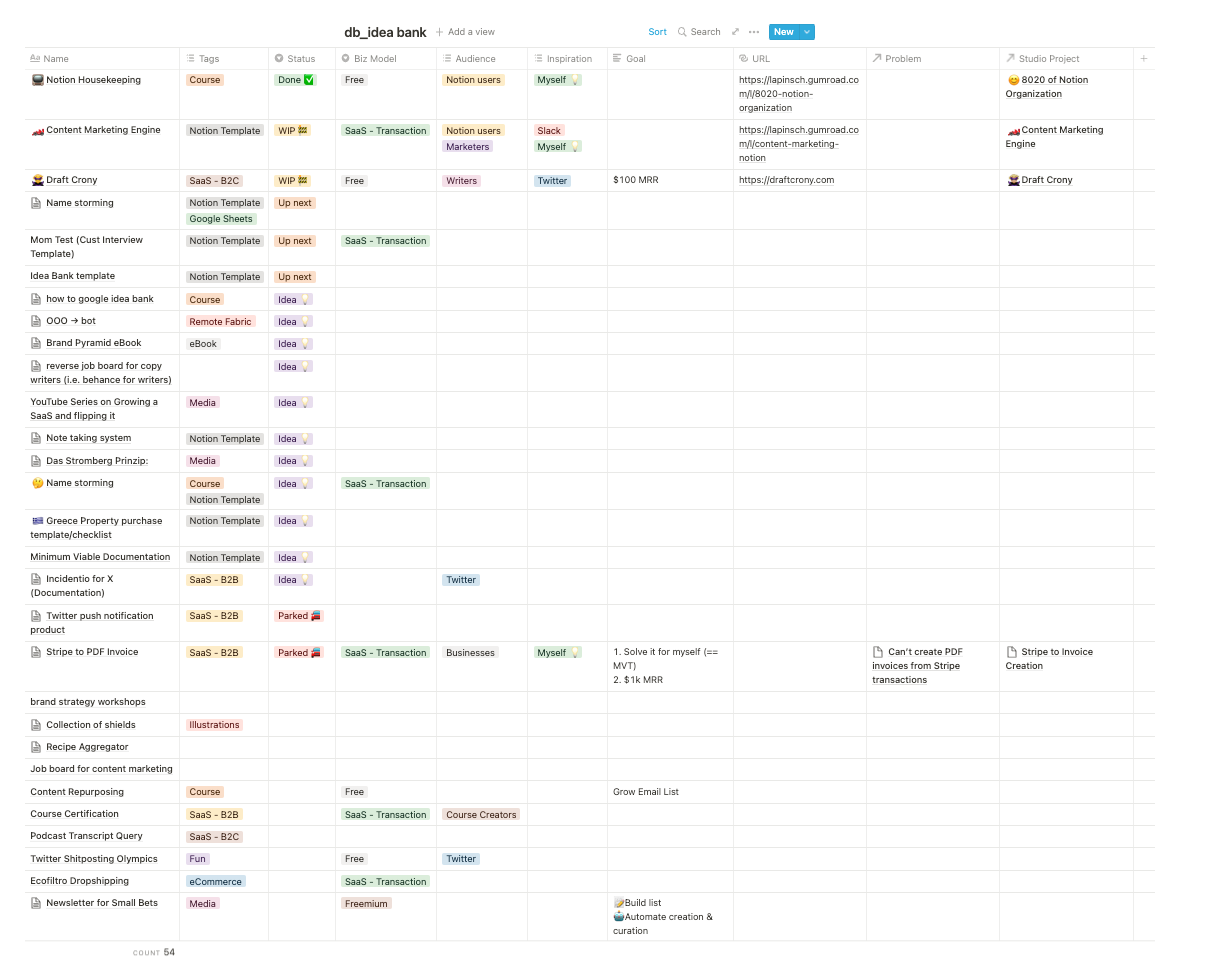 🙏
If you have any requests or see any ideas, which resonate with you, please let me know.
Reply via email or ping me on
Twitter
.
---
Learning #5: Ship, Ship, Ship 🛳⛴🚢
More live projects are more touchpoints for validation.
I don't know what will work but [product + market response + timing + luck] holds the answer. That's why I'm trying to ship as many products as possible.
A good shorthand for evaluating what to work on next:
Is there demand?
Is it quick to make?
Is it cheap to run/operate?
Is it scalable? (can it run without my input)
Is it free from long-term obligations? (maintenance; etc.)
Is it something where I have an asymmetric advantage/skill I can leverage?
More 'yes' answers are better ✅
On top, with each project, you generate new learnings. Your system of building and shipping projects improves. Tight feedback cycles mean quick learning loops.
My friend Michi suggested the following:
Here's something to laugh at for my German-speaking readers.
Who knows, but I think it's quite likely I'll end up with more than 12 projects by the end of this year.
Instead, I'll probably reframe my thinking to 12 Topics in 12 Months. Almost like a research & development focus.
What do you think?
---
Frequently Asked Questions
Here are some questions I received over the past weeks:
How can you afford to spend time on these projects? How do you finance your life?
💸 Income Side
Currently, I'm living off of savings.
I am fortunate enough that our previous business got acquired in 2019 and I still have a runway from back then.
Also, I am making the occasional sale from my info products.
Here's the overview from my email-based course on remote team leadership and a video course about brand strategy: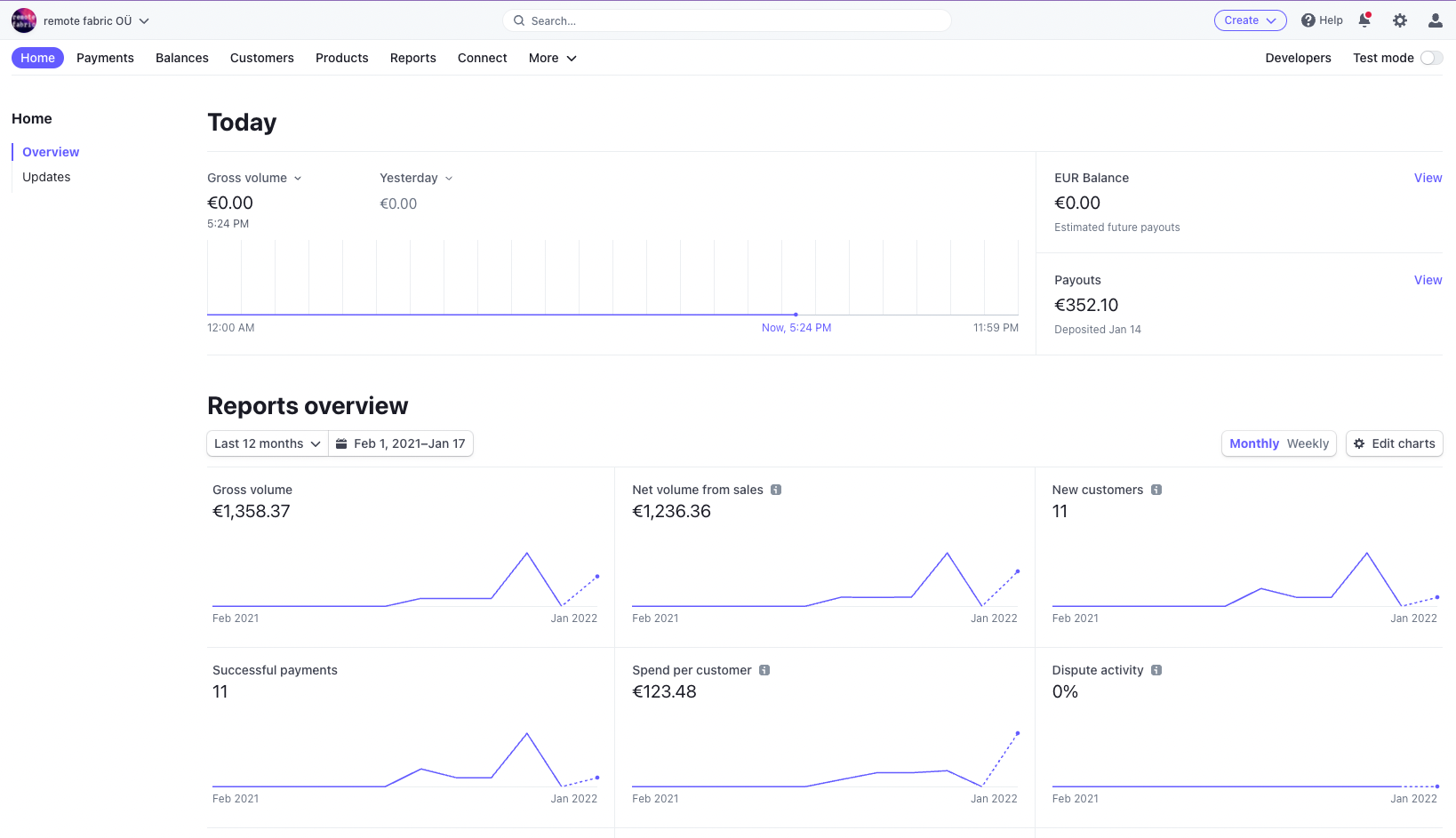 💳 Expense Side
I keep my fixed costs very low.
Rent: <€500/month
Food: Cooking primarily at home → groceries are cheap
Shopping: Up until recently I only owned one pair of Uniqlo Kando pants and a pair of Primark sweatpants, which I've owned for seven years and wore almost every day - my GF calls them the "Elephant pants" because their color is gray. Those Primark pants were ~€5 ... Bottomline: I'm not a shopping queen.
Tech: This is the one area where I splurge when it comes to purchases. My rationale: I use these devices every single day for most of the day + they determine my productivity.
Travel: We fly economy or discount and usually travel to locations where we have friends & family where we can stay. If we do that, we usually sub-let our apartment to friends & fam.
I don't own a car. I don't have debt. I don't have kids.
My monthly overhead is low, which makes it easier.
---
How did you come up with your personal value checklist?
In the last blog post, I mentioned my personal value checklist.
I am working with a professional coach. His name is Corey.
How did I decide to work with him specifically?
He's a Psy.D. in Clinical Psychology w/ thousands of hours of patient work
He's on the creator path himself
He's what Taleb would call a surgeon that doesn't look like a surgeon
If you want to learn more about him, you can check his writing or his Core Value Clarification Kit.
---
🚀
I hope you enjoyed this post.
Let me know if you have feedback, request topics/projects, or just want to
say hi
👋
So long, onwards and upwards.
Enjoying these posts? Subscribe for more