"Mom, I'm on Spotify": How I Produced My First Music Album
This is a step-by-step walk through from artistic concept to published music. Atitlan EP is out now on Spotify and Apple Music.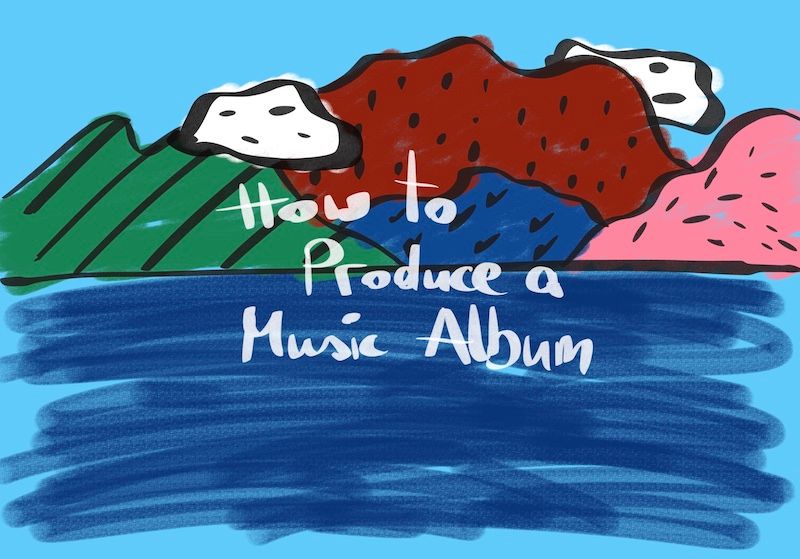 This post is a recap of all steps involved in making an EP.
I started with limited knowledge of electronic music production and used this project to learn-by-doing. Now the finished product is on Apple Music and Spotify. 🤯
---
Stuck in Atitlan: The Birth of an Idea
Our friends Liam and Johana were traveling the world.
Until they weren't.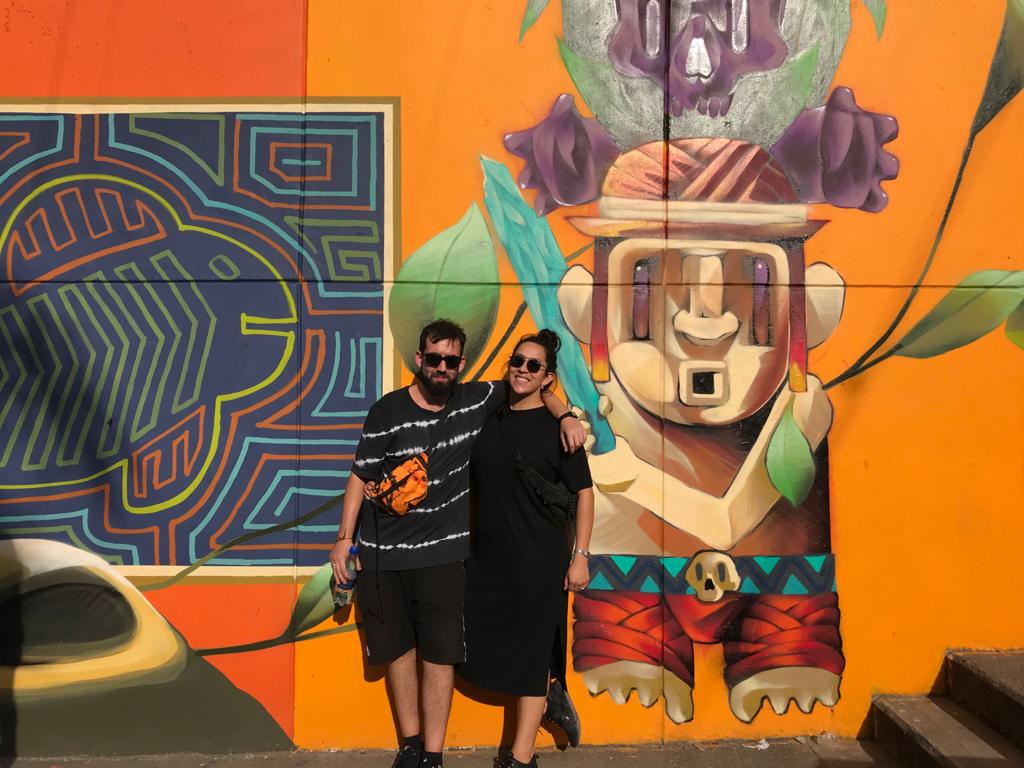 They were in Guatemala when countries started closing borders due to Covid-19.

With no end in sight, Liam turned the situation into a positive.
Being a movie director by trade he decided to shoot a documentary about the people at the lake - the internationals, the locals, and their stories.
Since we wanted to collaborate on a project, I contributed music to the documentary.
---
My Background: A Musical Journey from Classical to Electronic
Why music?
Classical Music: The Formative Years
Music has been a part of my life for as long as I can remember.
My dad - Ilmar Lapinsch - is a conductor and composer. Growing up in a musical household it was expected that I would follow in his footsteps.
It started with private violin lessons, then 7 years of classical training at the Vienna Conservatory in the program of Dora Schwarzberg until at age 14 I decided to leave classical music.
It didn't feel right at the time and the other kids were on a different level altogether. One of the more talented guys in our cohort later became the First Violinist at the Vienna Symphony Orchestra at age 27. 🤯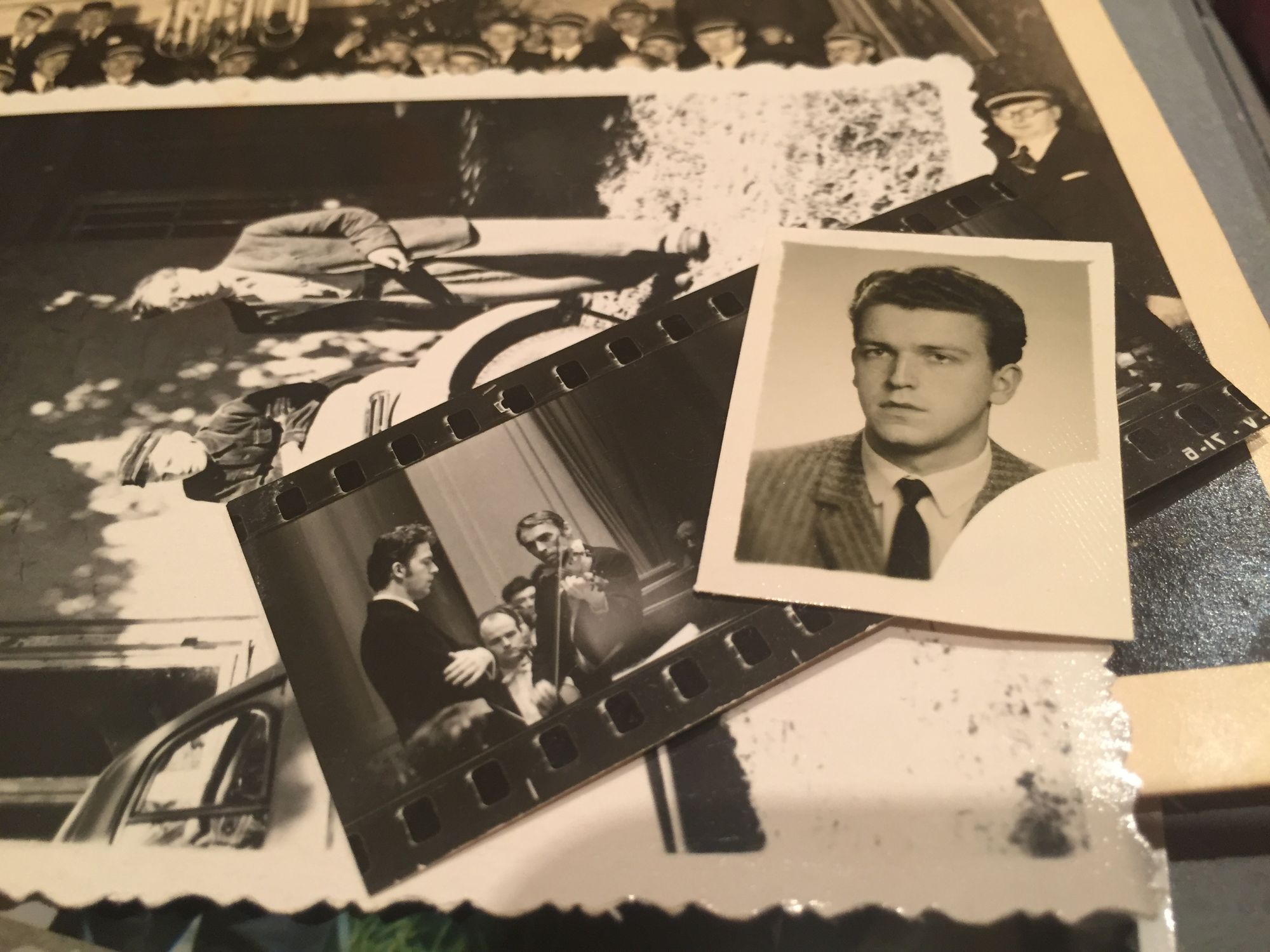 Electronic Music: DJing
After a difficult period, I re-discovered my love for music.
The "gateway drugs" were Daft Punk and Justice. Really anything related to Ed Banger Records.
In the late 2000s, I saw someone DJ at a house party with a laptop, a mouse pad, and a free version of VirtualDJ. I wanted to try for myself and see if I could do it better.
I created mixtapes on my old HP laptop. The track selection was on point ("Calle 8" by Mister Worldwide mixed into Digitalism) but the transitions were absolute rubbish. I had to practice, practice, practice.
In 2013, I met my brother from another mother - Finn. We collaborated under the name "PKHM RIOT" and created 30-minute mixes full of eclectic transitions. Mixing Duke Ellington (jazz) into Jan Driver (electro) or transitioning from Filter House into Stevie Wonder. Ever since the idea of cross-over has stuck with me.
Fast-forward to 2018, my friend Freddy and I started "Disko No Disko" with a simple premise: Organize parties and donate the proceeds to charities.
This idea quickly turned into a resident night at Humboldthain Club, Berlin, and a guest residency at Mitte Karakoy, Istanbul. The collective covers styles from wedding/prom music to melodic techno and everything in between. 💃
Electronic Music: Production
During the first Covid-19 lockdown I picked up music production and was looking for a project to create a full-length EP.
This post is about the 'Atitlan' project and what it takes to get from idea to finished EP. 🤘
---
Concept: Understanding the Context
"I am not doing concert music. I'm telling the parallel story that the film makers are telling." - Hans Zimmer
Before starting to write music for a movie it helps to understand the context and the story.
The Location: Lake Atitlan
Located in the highlands of Guatemala, Lake Atitlan is home to Mayan tribes who speak a local language called 'Kaqchikel'.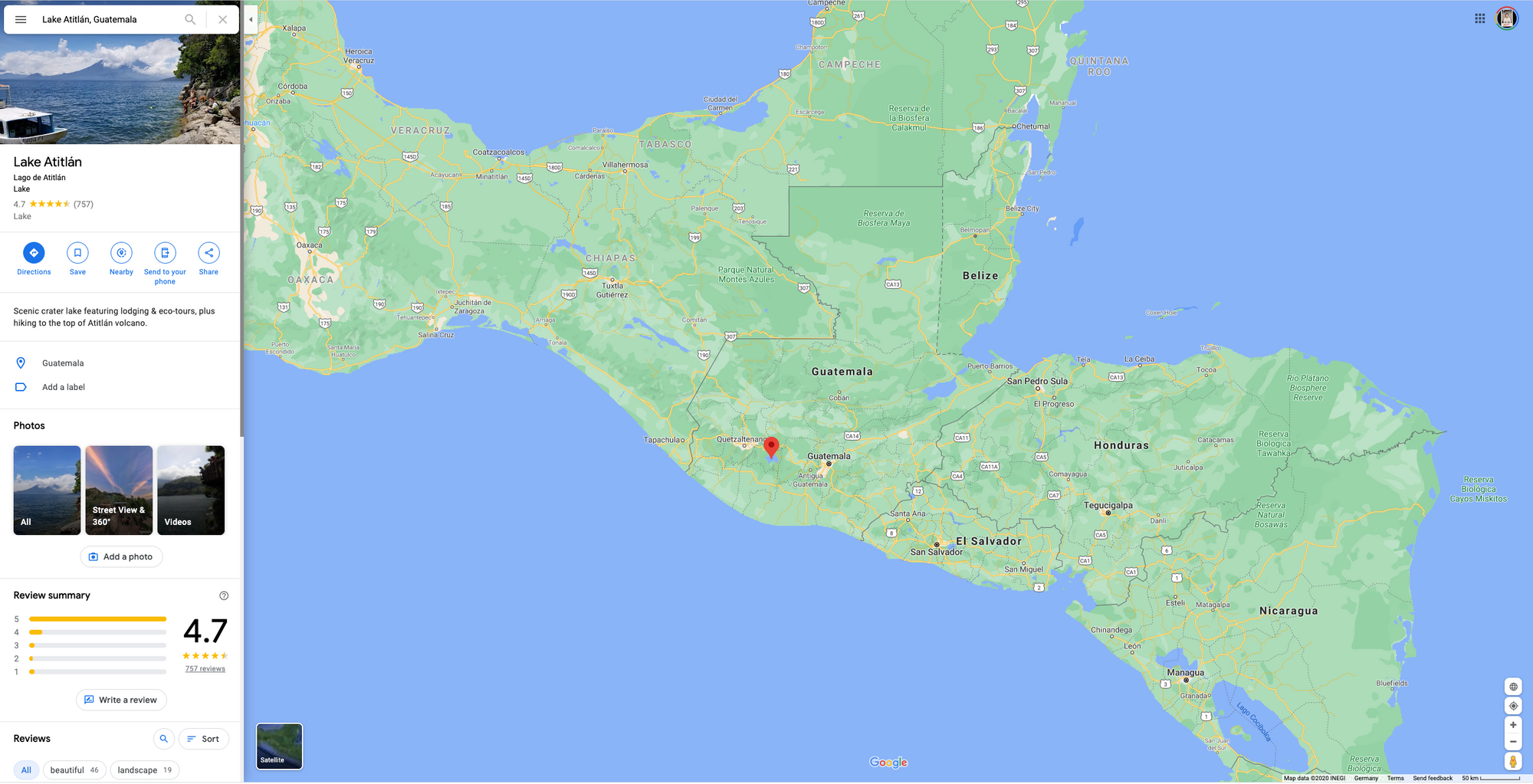 Idea for the EP: Create a sonic narrative that pays tribute to the local language and the mystic vibe of the lake.
The Narrative: Mix of Cultures at the Lake
In his documentary, Liam wanted to show how the group of travelers dealt with a lockdown in a foreign country. When will they be able to see their families again?
On the other side, we have the locals who have to deal with the uncertainty of the situation. What will happen to tourism? What will happen to their country?
Idea for the EP: Juxtaposition of familiar instruments/sounds from both perspectives:
International: Piano; guitars; etc.
Local: Marimba; pan flutes; etc.
The Sound: Natural and Modern
Liam and I had a couple of calls to dial in what he expected from the sound. He sent me a couple of references:
Recorded samples from Lake Atitlan (water sounds; interviews in Spanish with words in Kaqchikel; exotic bird songs)
Idea for the EP: A sound, which is rooted in Mayan/Latin tradition but also can be played in an electronic music setting.
---
Production: Creating the Narrative
"There are some aspects of the human condition which you could describe easier in music than in words." - Hans Zimmer
We wanted the four-track EP to complement the narrative of the story:
Set the Scene: Audience understands that it is a foreign setting
Show the Complication: You feel the tension and complication
Find a Resolution: The story moves from difficult to hopeful
Arrival: Wrap up the story and arrive at the destination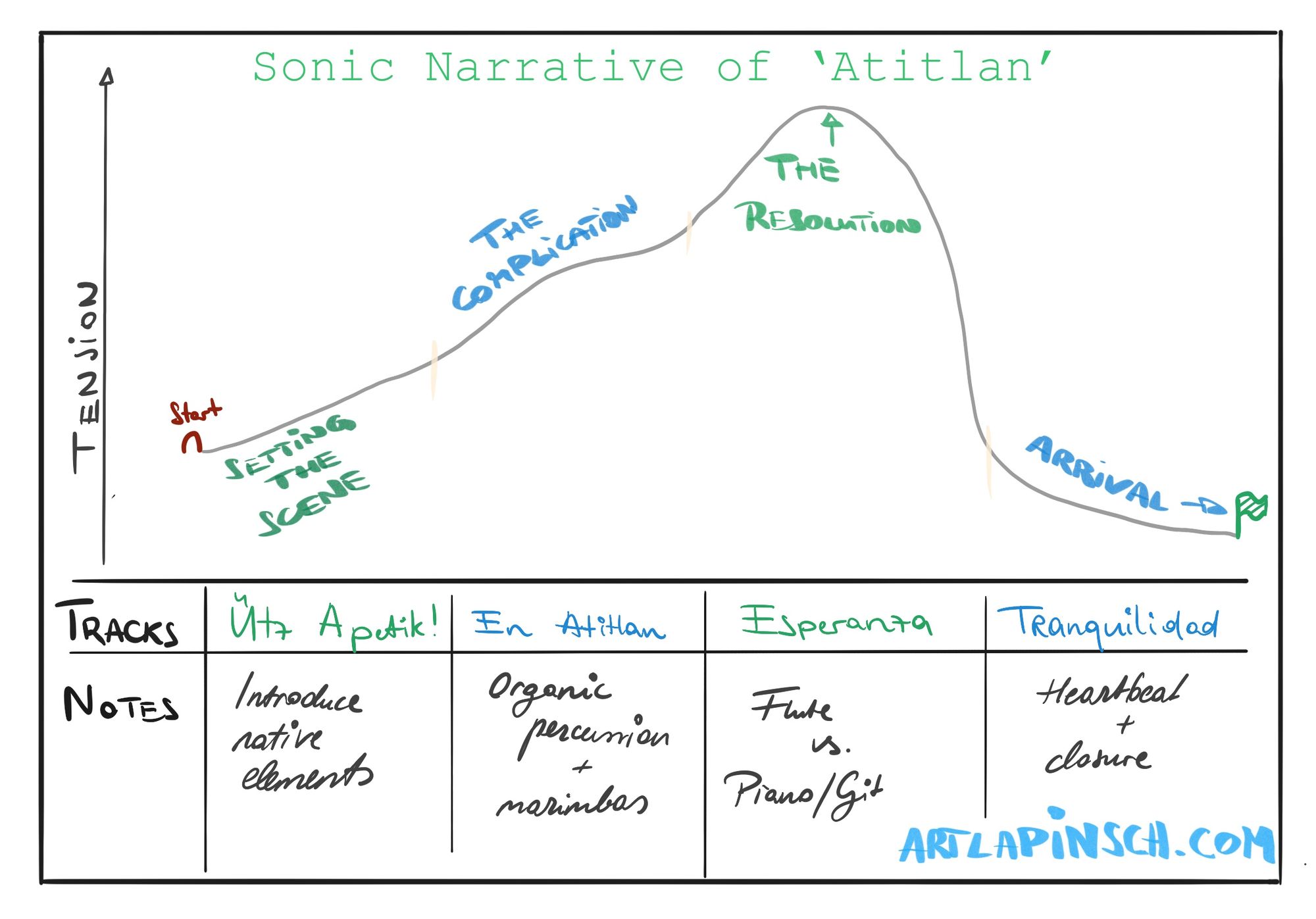 Track #1: Ütz Apetik
"Ütz Apetik" means welcome in Kaqchekil.
Main elements:
Water: Recorded sample from the lake
Local Vox: Recorded sample in Spanish and Kaqchekil
Sharp Hi-Hats: Counter-balance to the traditional/organic-sounding elements in the track
Track #2: En Atitlan
Danger is in the air.
Main elements:
Bird Songs: Recorded sample from exotic birds
Organic Percussion: Claps, snaps, and shakers
Marimba: One of the main instruments used in Mayan music
Pan Flute: Flutes as main melodic counter-element during breaks
Track #3: Esperanza
Tension turns into hope. Constant fight between old and new. Past and future.
Main elements:
Ambient: Recorded samples from birds and surrounding areas
Flute: Main lead element carrying the 'sad' energy throughout the track
Piano: Counter-weight with positive elements
Guitar: Supporting the piano narrative
For the piano elements, I worked with traditionally-trained Robert O'Brien. We collaborated via email and audio-file exchange.
Here's one of the emails I sent as direction for the recording:
I'll try to put into words why I think the piano in the reference track works: https://www.youtube.com/watch?v=Zz2Hlnwa94s

- piano is the rhythmical counter-weight in the entire track

- all elements are following the 'bounce' of the track. guitar/bass/etc are following the beat - and - beat - and - ... rhythm. ... everything lifts it's chest (so to speak) on the off beat.

- then piano comes in with a slightly different rhythm than the rest ... breaks it up ... almost like a palette cleanser

- the piano has 2 elements .. one is the very faint / high end almost like crystal/water drop elements ... that I think we can even program into midi

- but the main piano element is this strong/emotional piano that starts kind of angry/desperate and then becomes more suave/gentle towards the end

When I think of the pianist I think of a Spaniard who's far far away from home, sad and anxious that he's not with his loved ones but knows that if all goes well he'll travel back home soon enough.

Comes home and has to channel all these emotions on a piano. Same narrative put into keys.
The whole process took a weekend and turned out great.
Track #4: Tranquilidad
Arrival.
Main elements:
Heartbeat: Edited double-kick drum at 65bpm, which is the human resting heart rate
Strings: Symphonic strings to create a wide and smooth soundscape
---
Post-Production: Mixing and Mastering
Mixing and mastering was a whole different story in itself.
I wrote about my learnings working with Kilian.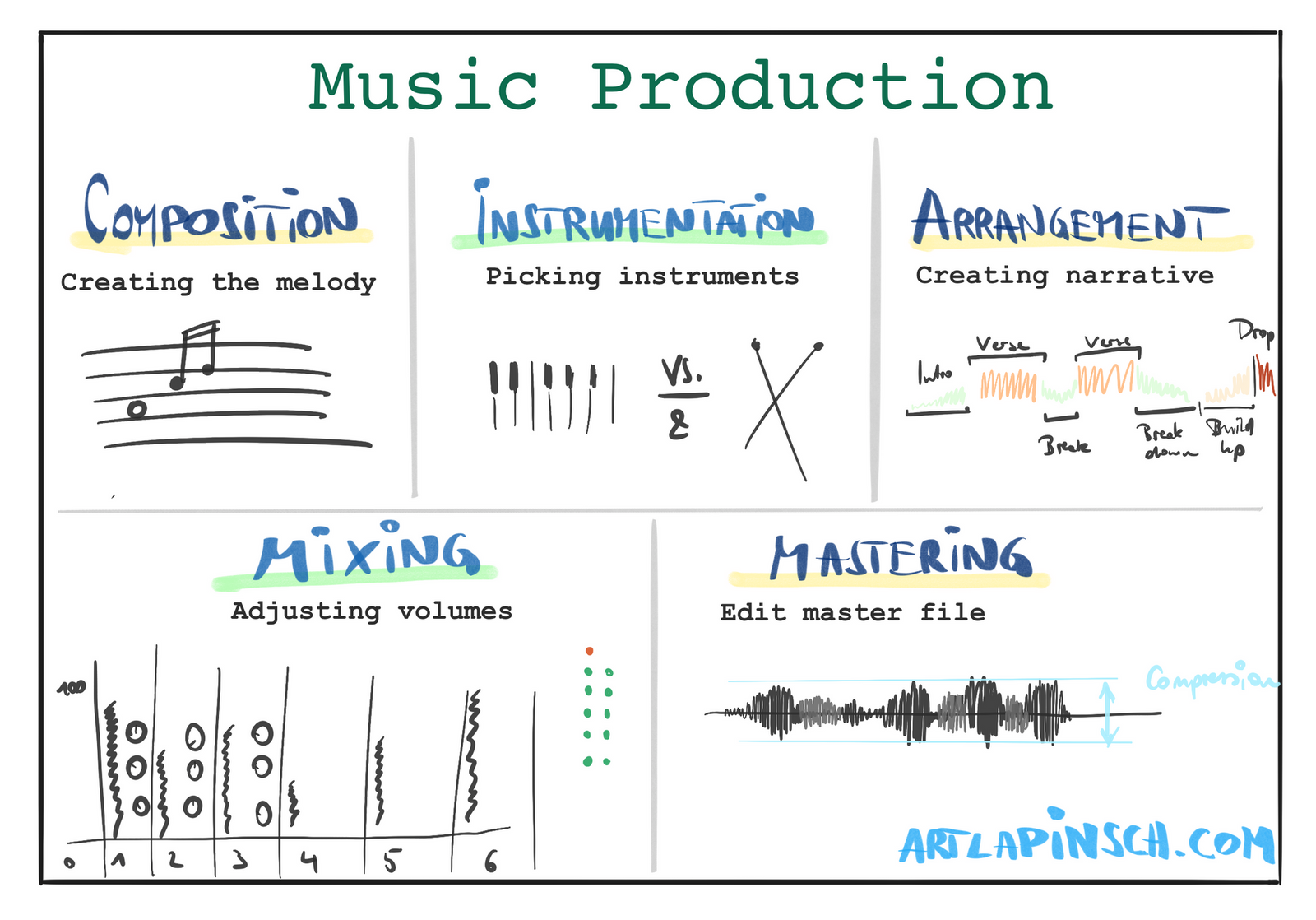 ---
Cover Design: Working with Buhho
For the cover design, I worked with Peruvian artist Buhho.
We connected via Instagram, talked through the design brief, and got to a final design within 4 iterations.
If you like his art, get in touch with him directly. ☝️
---
Remixes: Adding New Flavors
I was lucky to get 3 talented remixers on board who added their personal styles to the Atitlan EP.
The Mad Scientist: Bore | Ritual Cycles (Berlin)
"There's no top to the mountain, the view only gets better when you climb." - anonymous
Bore (aka Boris Filipov aka Ritual Cycles) is not only an OG of the Disko No Disko crew but a sonic researcher.
He is constantly looking for new sounds either through modular synthesis or analog audio routing. His sweet spots are the new and the next.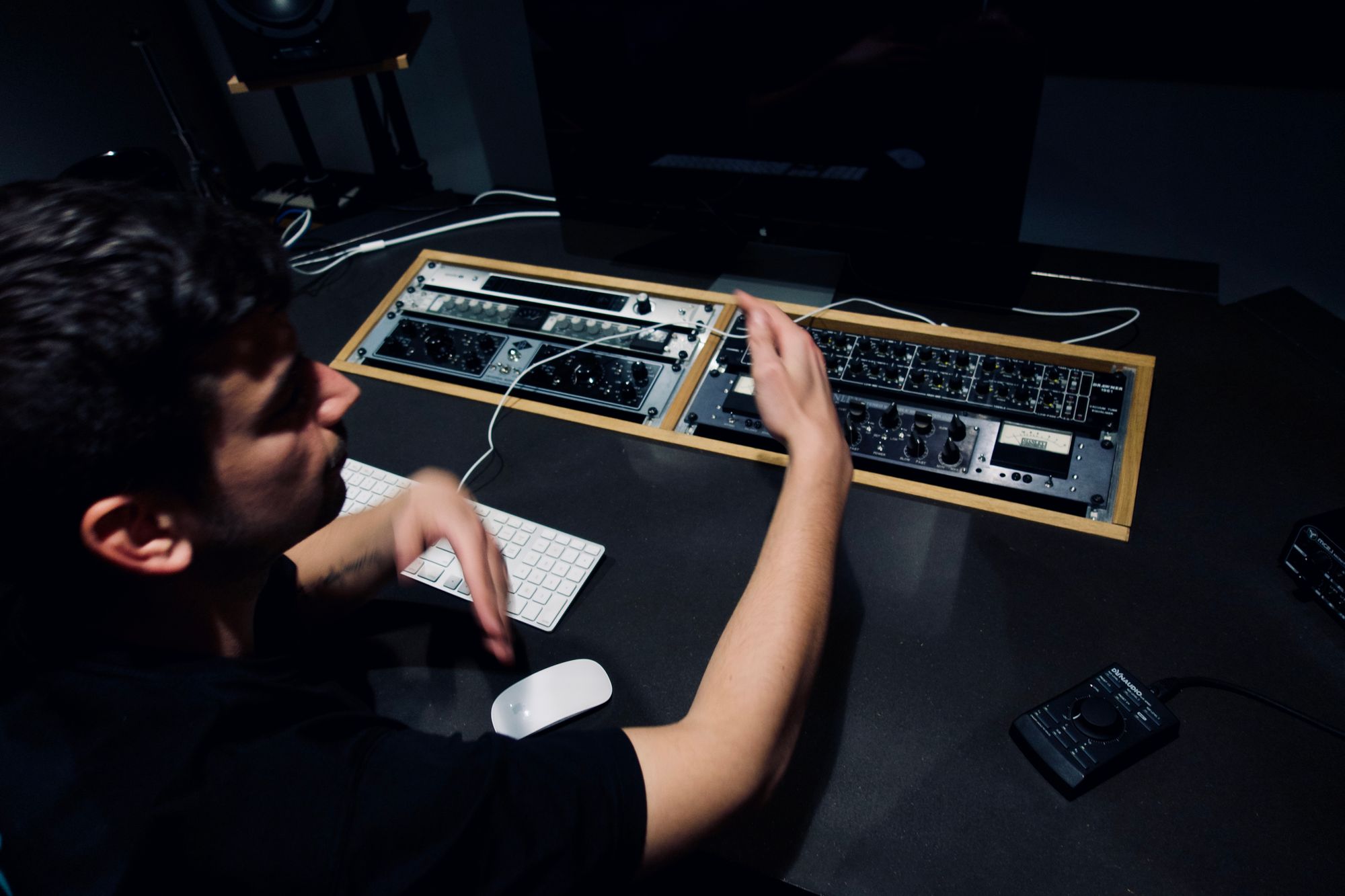 The Ritual Cycles is a techno track using analog sampling techniques for the production. Very organic sound.
---
Techno Act: David Bucka (Hamburg)
"Music means to live the moment." - David
David is an established techno act in Hamburg and beyond. Recently delivering more and more productions via labels such as Groovematica, Enchant Audio, and Aviary Records.
Having landed already Top 10 positions in Beatport this is one to watch.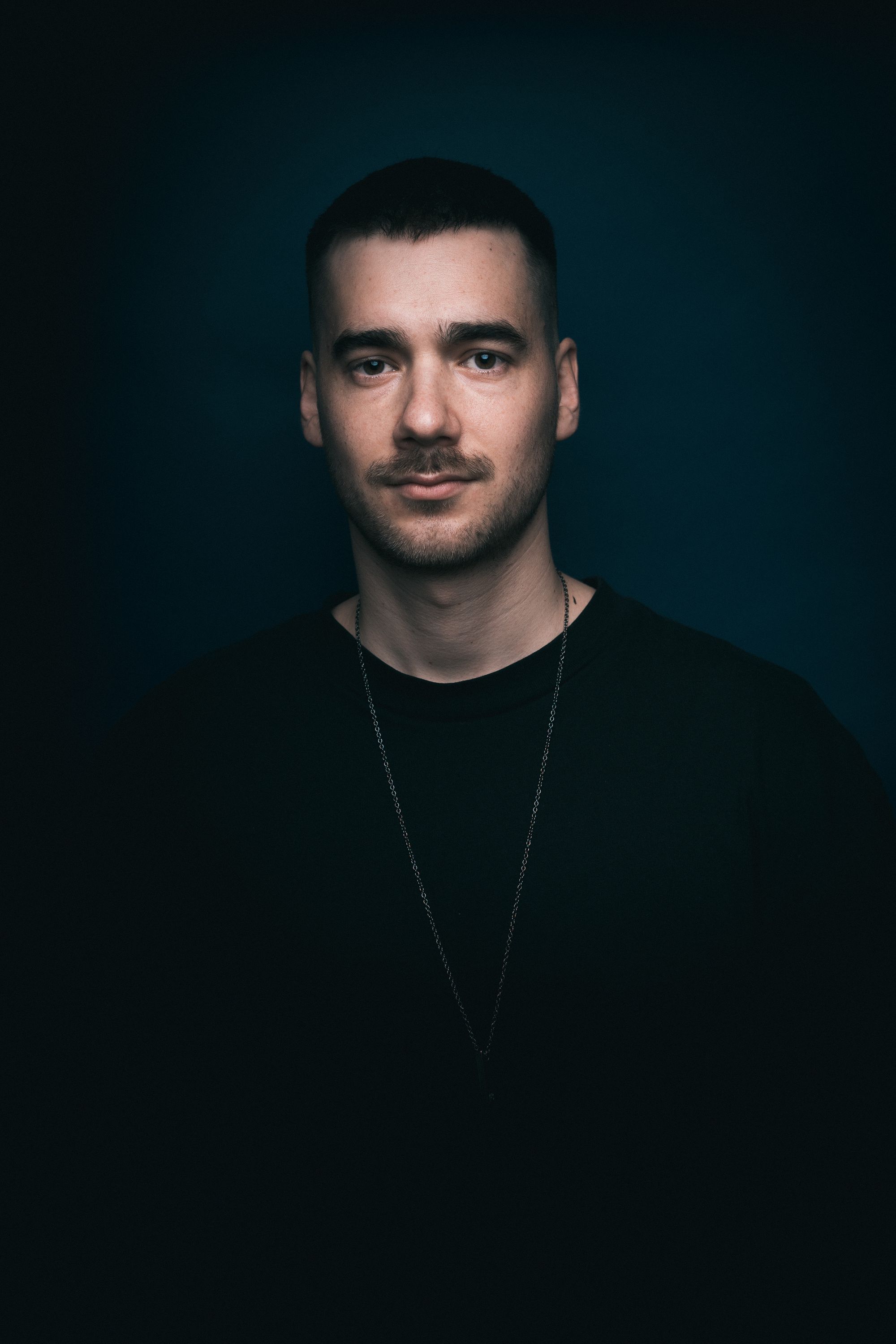 David's remix is melodic techno with a beautiful break and drop combo. Epic.
---
Pianist in Disguise: MATISO (Hamburg)
The Piano has been with MATISO since his childhood. His electronic music productions - released via Iconyc Noir and Aviary Records - are melody-forward.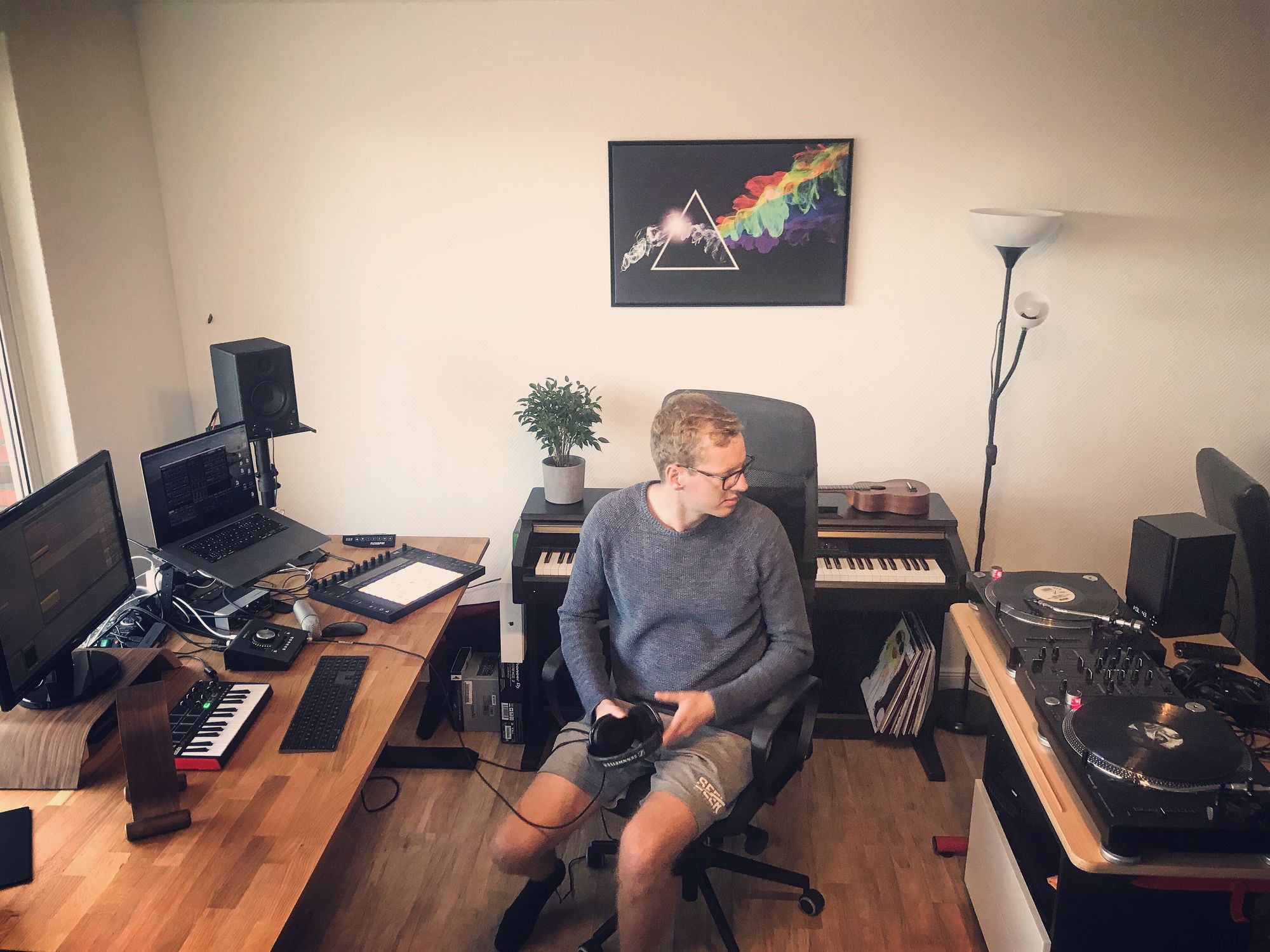 MATISO's remix uses an arp chord sample from the "Utz Apetik" original to create a laidback 'dub' vibe. On top, he layered emotional piano chords to reimagine 'Ütz Apetik'.
---
Releasing the Finished Product: 'Atitlan' EP
We are releasing the EP via exposure music.
The Hamburg-based label is run by brothers Kilian & Finn Bohn.
Over the years they released original tracks from Black Loops, Ennio, Australia-based Human Movement, CutOff!CutOff! and their own productions under the name Kilian&Finn. Remixers on the label include Kyle Watson, Rainer Weichhold, Mat.Joe and many more.  
After 13 releases with more than 4 million plays in worldwide radio- & club play, the label took a creative break. Now the two brothers are restarting their label and I'm their first new release. Like what the hell. 🤯
The EP on Spotify
Still can't believe to get a result for my name when searching in Spotify. WTF.
The Tracks in the Context of DJ Sets/Mixes
---
Biggest Learnings: Goal Setting, Support System, and the Craft
Finn asked me recently if I'd like to continue making music (um... yes!) and what I had learned during this project.
Here are some takeaways:
See your Everest: Having a Clear Goal Makes it Easier
As with any new skill, it's easier to put in the effort when you know why you are doing it:
Programming: Write a script or program to solve X
Dieting: Reach your desired body weight or body composition
Running: Run your target distance or pace
The same is true for music production. Instead of doing many tutorials from start to finish, commit to finishing a remix or original song and then go through all necessary steps. You'll notice when you are hitting a wall. Google is your best friend.
That's what worked for me.
Try to Get Help: Having a Mentor or Buddy Helps
I was lucky that my mastering engineer was also a producer and a collegiate-level instructor himself.
For a start, you can see if you have someone in your circle of friends or friends of friends who know a little bit more than you and are willing to share their knowledge.
Every little bit helps. Heck, you can even reach out to me.
Collaborations and Remixes: Diversity as Growth Accelerant
Every artist and musician has their own tips, tricks, secrets, methods, ...
Collaborating on a remix or properly working with different artists increases your pool of knowledge. Extra brownie points if the artist focuses on a different instrument or genre than you.
Higher Fidelity: Understanding a Craft Leads to More Appreciation of a Craft
Finn asked me if I listen to music differently now.
The answer is yes. Let me explain.
I can still enjoy music as a consumer but if I properly focus on the music it feels like there's more fidelity to the experience.
Now it seems easier to perceive sounds and I hear more easily where those sounds are placed across the stereo spectrum (left/center/right).
Understanding the technical work steps helps to identify what an artist has done with the sounds: which effects were applied, why did they make this decision, why does it help in the context of the particular song.
Research seems to suggest that once you have built neural pathways for an action (e.g. playing piano/synthesizer) those same pathways are triggered even if someone else is doing it or if you hear the result. This is called "embodied cognition".
Pretty whacky stuff but explains why you are more stressed watching a sport that you have trained/played yourself.
Workload: It's More than Expected
When starting the EP project I thought I would be done in a week. Man, was I wrong.
I completely underestimated the details that go into music production. If you want to know more about the technical aspects of the production you can read my previous post on the topic.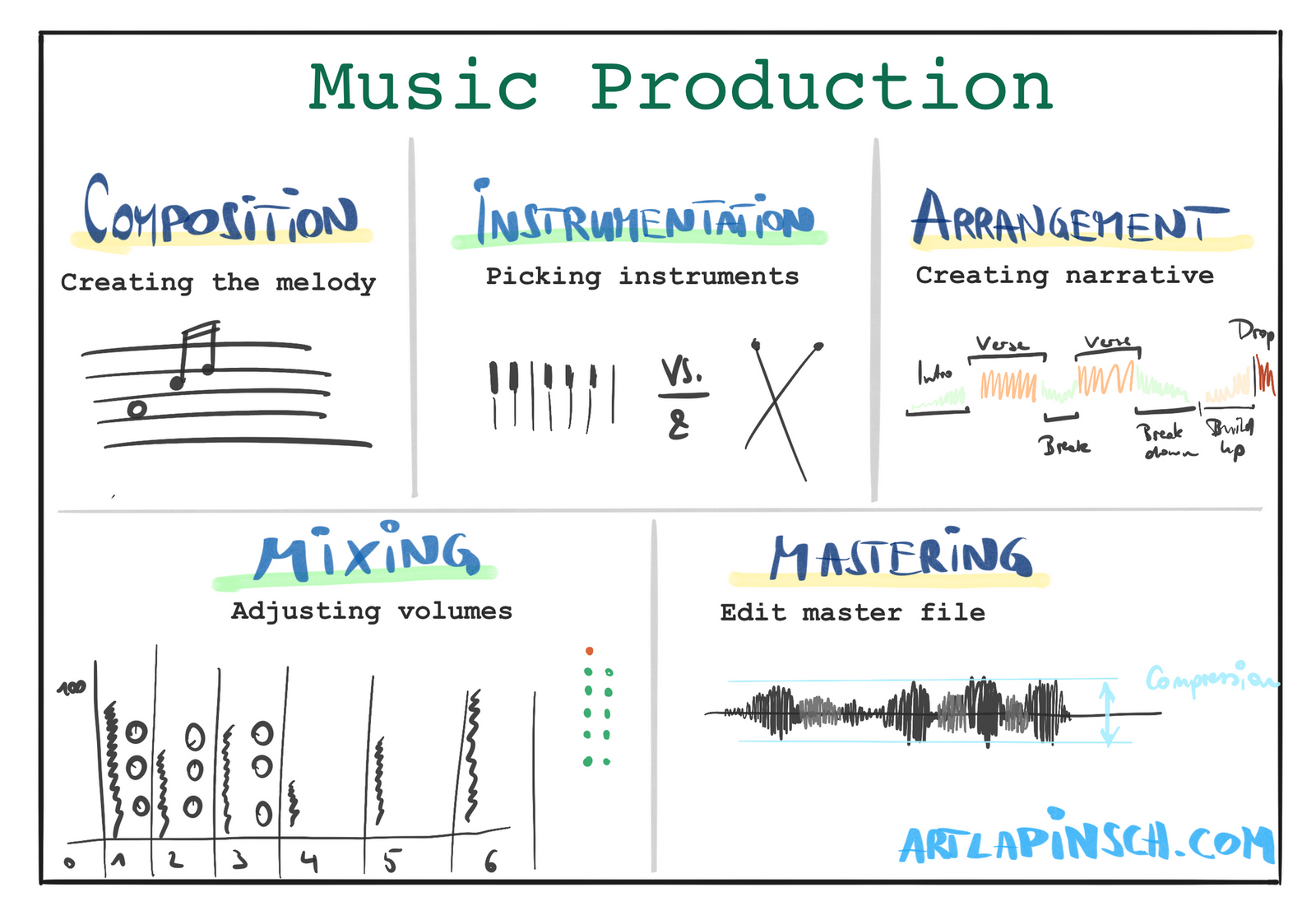 From start to finish it took us roughly 10 months:
First 90%: ~ 5 months of production (= composition; instrumentation; arrangement; mixing)
Last 10%: ~ 5 months of rounding the EP up (= organizing remixers; production of remixes; mastering of entire EP; preparation for distribution; promo; go-live)
Getting Published: It's Difficult but Manageable
Once the music is done you want to distribute the tracks to the main platforms (Spotify; Apple Music; Deezer; Tidal). This can be done via a distributor.
Spotify has a great summary of distribution services tailored to individual artists and labels.
In our case, we distributed via exposure Music and their distributor The Orchard.
---
Closing Remarks: If You Want to Do it, Give it a Shot
Having gone through the process from start to finish I would say it is attainable to anyone who wants to create and publish their music.
It might take a bit shorter or a bit longer depending on what your level of knowledge is to date.
You can have a full professional studio on your computer
Your audience is all the people on the internet
You can create, edit, and distribute bits and bytes much easier than vinyl
The point being: It's easier than it has ever been.
🤘
---
There's so many people without whom this crazy project would have not been possilbe:
Liam for ending up stuck in Guatemala and being in on doing this wild project.
Kilian for being a mentor and sparring partner throughout this process.
Finn for believing in me and helping me to push this out as a proper release.
Robert for playing that slick piano riff for the song 'Esperanza'
So many more. Thank you 🙏
Further Links
What's Next?
I'm creating an online course about Brand Strategy for Practitioners:
Learn Brand Strategy for Practitioners 🧰
If you have thoughts, questions, feedback, resources, critique or just want to chat please ping me on soundcloud, twitter or reach out via Linkedin.
Enjoying these posts? Subscribe for more